LANDSCAPING
10 MINUTE READ
12 Insanely Effective Tactics To
Get More Landscaping Leads

[Free And Paid]
You can be busy today, but with new landscaping companies popping up like weeds in a backyard, your pipeline can be empty before you can say "but we offer incredible services!"
It's a mistake to think your services will sell themselves. Just doesn't work like that. No landscaping contractor or company can survive without effective lead-generating strategies.
Not that you need to worry about that, because we've rounded up 12 of the most effective tactics for residential and commercial landscapers.
What's the #1 thing all landscapers need to do great work?
It's not a truck, or the latest equipment, or the ability to tell Buffalo grass from lawn weeds.
It's leads.
It doesn't matter if you've been running your landscaping business for 10 years or 10 months, without leads there's no way to compete in the crowded industry. And with a global industry value of $105.1 billion, competition will only heat up.
You'll need a steady stream of leads to grow your business, take care of your financial future, and keep doing what you love. But you know that, it's why you're here. You're proactively looking to bring in more work, which puts you ahead of 90% of landscapers who rely on old-school tactics.
Relying on your word of mouth won't cut it in 2021 as customers head online to search for landscapers.
The solution? Start putting your business where customers are.
To grow your business you'll need to combine a range of lead-gen tactics to ensure your pipeline is full from month to month. Best of all, you can pay as much or as little as you like.
Read on to discover 12 effective lead-gen strategies for landscapers, paid and free.
What should I know about free landscaping leads?
A low-quality lead is like getting a terrible Christmas present.
You don't feel like you should complain, after all, it is a lead. But you just wish it was a bit better suited to what you actually needed.
If your landscaping company is getting poor leads (we're talking time-wasters, price gougers and tyre-kickers) it's more likely because you a). Haven't defined what an ideal lead looks like and b). You're targeting the wrong audience.
Free landscaping leads aren't low-quality just because they cost $0.
In fact, free leads can be the best type if they've come through referrals or branded platforms like social media. These leads already trust you, have gone out of their way to find you, and are more likely to become paying customers as a result.
So don't stress if you can only afford to apply the zero-cost lead generation ideas we've put together.
"How much should I expect to pay per landscaping lead?"
Knowing what a lead costs is crucial in the long-run.
If you can roughly figure out what a lead is worth, you can predict money out and money in. For example if a lead costs $100 and the average customer spends $500, you've got a profitable lead-gen system.
Thankfully, your cost-per-lead (CPL) is easy to figure out as long as you know a few other figures first.
The total cost of your marketing strategy ÷ Number of leads generated = Cost-Per-Lead
For example, if you spend $5,000 on a Facebook Ads campaign and generate 50 leads your formula would look like this:
$5,000 ÷ 100 = $50
In this example, you paid $50 per lead. And if those leads are paying for big-ticket services like a new patio or a full backyard makeover with outdoor lighting, seating and firepit, then you'll be making good money.
As long as your leads generate more than $50 in revenue (factoring in your other overheads and business costs, like fuel and materials) your business will grow.
And before your flashbacks to math class become unbearable, we'll leave you with the average CPL across each lead gen channel. Your CPL could be higher or much lower, but it's nice to know the average cost that landscaping businesses are paying per lead.
| Lead Generation Channel | Cost-Per-Lead Average |
| --- | --- |
| Events and Tradeshows | $811 |
| TV, Print & Radio | $619 |
| Video Marketing | $175 |
| Google Ads | $110 |
| LinkedIn Ads | $75 |
| Facebook Ads | $58 |
| Email Marketing | $53 |
| Ad Retargeting | $31 |
| SEO | $31 |
"Do these strategies work for commercial landscaping leads?"
Yep.
You can work in pathway construction outside shopping centres, mass tree planting around schools, or park furniture installation for local councils and these strategies will still bring in commercial landscaping leads.
The reason these tactics work for residential and commercial landscapers comes down to the audience they target.
It doesn't matter what landscaping services you offer, because your customers are all driven by the same pain points. They want faster results, they're on a budget and need affordable lawn care, they need to spruce up the property before a sale, etc.
When your lead-gen strategies target customer pain points, they'll work no matter what industry you work in.
6 FREE landscaping lead generation strategies
"Free"
That word has such a nice ring to it, doesn't it?
And when it comes to filling your inbox with leads, you don't have to splash the cash. In fact, with the following 6 landscape lead gen ideas, you don't have to spend anything at all.
NOTE: These free lead-gen strategies cost nothing, but you may incur small costs in providing them. For example, a free inspection will help turn people into hot leads, but you'll need to cover the cost of fuel to reach people's properties.
#1 – Set up and optimize your GMB (Local SEO)
The days of picking up the physical Yellow Pages and flicking through the pages are long gone. But business directories haven't vanished, they've just moved online.
The largest and most popular business directory available to you is also free, and it's run by Google.
Google My Business is an online directory that displays the contact info and business details of landscapers. All you need to do to get listed on this widely viewed directory is create and optimize your own Google My Business listing, or GMB.
And with the average GMB listing attracting 59 interactions a month, you'll have calls and quote requests coming out your ears.
Alright, let's plot out your plan of attack. With your GMB you can appear in Google Map results.
By clicking on the map your customers will get a more detailed look at their local landscaping options. And Google will populate the map with easy-to-spot red markers, helping people figure out who the nearest and most useful landscaping companies are.
Your GMB also allows you to rank in the 'Local 3-pack', which appears below the map.
This valuable real estate shows the top three landscapers in the area – but there's a catch. These three landscapers don't have the most awards or the deepest knowledge of horticulture.
Nope, they've just optimized their GMB listings better than anyone else (read on to find out how you can outrank them).
The Local 3-pack is a landscaper's dream because it offers instant visibility. And for customers who have questions about their soil, new water features or a modern patio, these landscapers are in the box seat to receive phone calls.
The takeaway here? It's not enough to just set up your GMB, you need to fully optimize it too.
"How do I optimize my GMB?"
Optimizing your GMB doesn't cost a cent – but it will take time.
This covers adding all of your details, including the most important contact details that make up your NAP, or your:
Name of Business
Address of Business
Phone Number of Business
You can also add photos to make your GMB more engaging, add a unique business description to tell people about your landscaping business, and tap into a range of advanced GMB tricks that let you rank for a range of local keywords.
Unfortunately, it would take an entire guide to help you optimize your GMB and drive consistent leads.
Fortunately, we've already written that guide!!!
Looking for advanced GMB tactics? Check step-by-step guide to optimizing an unmissable GMB
#2 – Start a landscaping blog (SEO)
It's easy to assume your customers won't want to read blogs, and that they're only after the best landscaping companies.
But you're reading this blog right now.
The point is, not every customer wakes up and thinks "I'm going to spend $10,000 on a new lawn today!". The bulk of your future customers wake up and think "hmmm I'm not sure I'm in love with my lawn anymore".
This is known as the 'Awareness' stage, meaning they're aware they have a problem. This stage is the first of three stages in the 'Buyer's Journey', which every landscaping customer goes through.
Awareness
Consideration
Decision
It's a mistake to set up a website with a home page, services pages, and contact info. Those pages are helpful, but only for the 'Decision' stage.
A blog helps you target customers and generate leads by guiding people through their 'Awareness' and 'Consideration' stages. For example, that customer who doesn't love their lawn anymore might jump on Google and search for 'DIY lawn care tips', 'How to plant the best flowers for spring', and 'how much does a landscaper charge'.
They'll look for articles on each topic as they realize lawn care is hard, and landscapers are the best choice going forward.
By launching a landscaping blog you can publish these types of articles. This helps you rank on Google when people go searching for information. And it helps you build up your thought leadership on the subject.
The end result? You get leads through your blog from people who have reached their 'Decision' stage and have decided to pick you. With companies who blog receiving 67% more leads per month, a landscaping blog is free and effective.
#3 – Network with realtors and property managers
Think face-to-face lead generation is dead in 2021?
Think again.
Offline lead-gen strategies still work, and forging relationships with local realtors and property managers is one of them. These partnerships are valuable because property managers and real estate agents typically don't want to handle their property's lawn care.
Whether they're looking to lease or sell, a clean and tidy yard is good for their business – and they'll look to hire a quality local landscaper to get the job done.
Consider contacting your local realtors and property managers to ask if they'll keep you on file and call you before auctions or viewings. By taking the time to make real-world connections you can unlock a stream of ongoing, quality leads.
#4 – Offer free lawn inspections and landscaping quotes
Free quotes and lawn inspections are standard in the landscaping industry, and for good reason.
Your customers want to test your expertise before they open their wallets. This is standard in every industry, with free trials on Netflix or free samples at the supermarket, but for landscapers there's even more reason to offer your expertise freely.
The higher intrinsic value a service brings, the more cautious a customer will be in paying for it.
It's easy to spend $5 on a beer at the bar, because the intrinsic value of that product is low. You can buy another beer, and it's not a big deal if you hate the taste. It's not just the price that makes it an easy purchasing decision, it's that you don;t attach a high level of value to the product.
It's much harder to spend $5,000 on leveling out an uneven yard, installing a retaining wall, and plating raised flower beds. Customers love their homes, so the intrinsic value of digging up the yard and building something new is high.
Remember, it's not just the price people are focused on. They want to know they can trust you to work in their homes.
And how do you build that trust? By using your own time to head out to homes and businesses to prepare custom quotes and estimates.
Instead of seeing this as time wasted, see this as a face-to-face sales pitch with a prospect with no competitor in sight.
When customers see how much effort you put into their free estimate, and how you value their time over yours, you'll start finding your inbox full of new leads trying to book you in for a lawn care consultation.
#5 – Add your business to landscaping and home improvement directories
Here's a little experiment for you to run.
Jump on Google and type in 'best landscaper + your location'.
It would be great if customers searched for your name, but odds are most won't know you directly. Instead, they'll ask Google to help them find the best landscapers in their local area.
Check out the results you see. Instead of returning individual landscapers, Google typically shows business directory sites and listings sites.
Why? Because words like 'best', 'compare' or 'top' tell Google that people want options.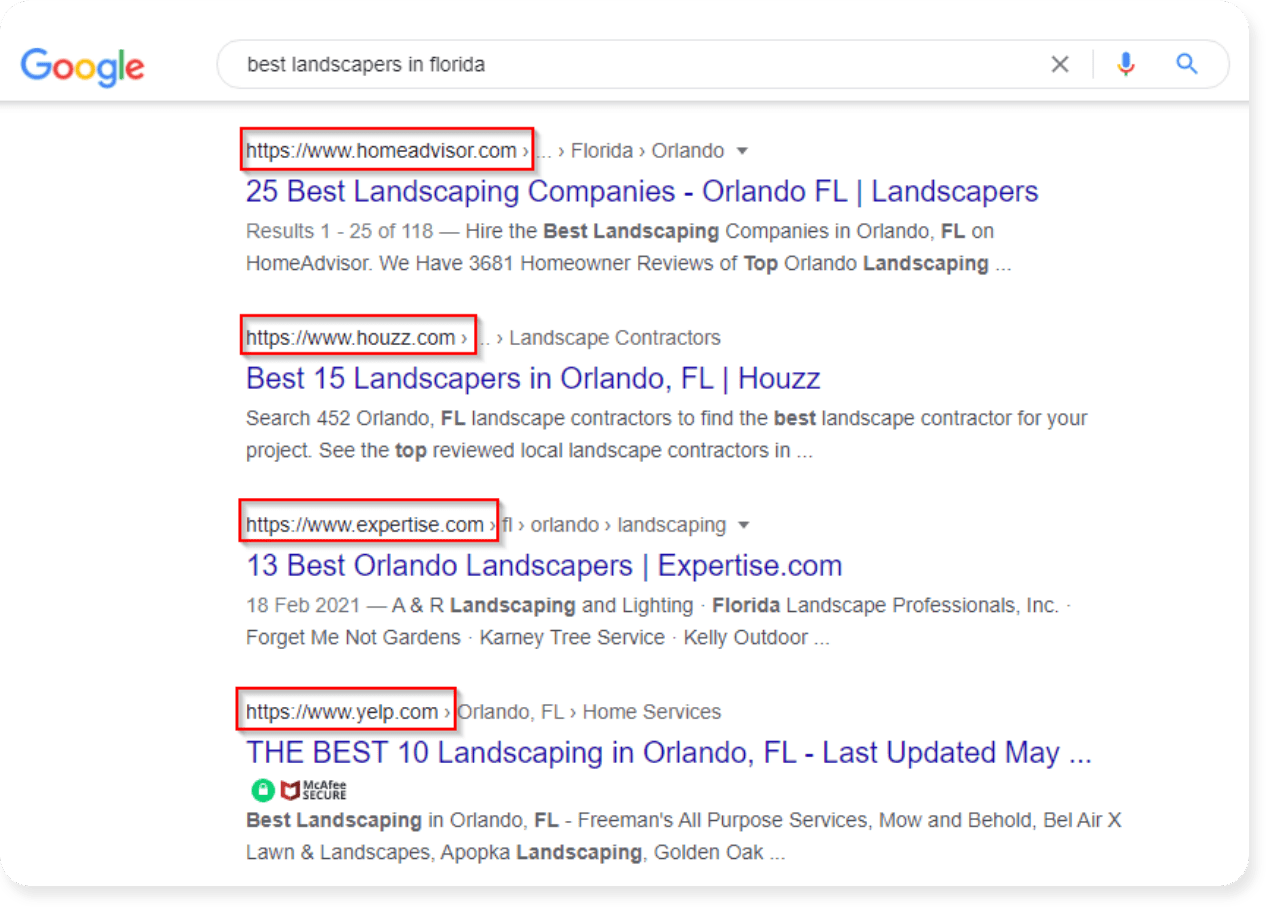 To appear on these websites you'll need to manually add your business to their listings. This means adding your contact details, opening hours, services and business info. To help your listings stand out you'll also want to encourage customers to leave 5-star reviews on each directory site.
There are literally thousands of directories to choose from, but it's better to go for relevant sites, not every site under the sun. There's no point being listed on a directory for naturopaths if you work in backyard hardscaping.
Here are a few of the most valuable directory sites for landscaping companies:
Local searches – the kind that trigger these business directory results – have increased by 900% over the past 24 months. So, if you want more local leads, put yourself on the directories where landscaping customers go looking.
#6 – Run a 5-star review campaign
"How can getting reviews help me generate leads?"
We get it. At first this seems like a brand-building exercise – but brand building IS how you generate leads.
Your reputation as a landscaper can drive consistent leads without you paying for ads or updating your website. When done properly, people will make up their mind to hire you before they ever see an ad or your website!
This is because 82% of people read reviews for local businesses. Your customers want to know you're legit, and a good review can tip the scales in your favor just as a bad review can turn people off.
Adding more firepower to a 5-star review campaign, remember when we showed you how valuable it is to rank in Google's 'Local 3-Pack'?
Well, reviews make up roughly 15% of your ability to land in the Local 3-pack. The more positive reviews you earn, the better your odds of ranking on Google.
And do these reviews help drive leads? Absolutely.
Online reviews help drive almost 70% of purchasing behavior. By getting your customers to share their feedback, you're turning them into walking advertisements. Every review they lead helps convince a future customer to reach out to you.
Quick note, it's common to see reviews on a landscaper's GMB listing, but you can also get reviews for your Facebook Page, as well as individual listings on business directory sites.
This is a proven, simple and powerful way to generate leads, and all you need to do is ask for them…
6 PAID landscaping lead generation strategies
Spending money probably isn't your idea of a good time. But when you spend money to generate leads and land new customers, that money becomes an investment.
The following lead-gen strategies will cost money, but they typically generate more targeted leads. For example, Facebook Ads can be used to target specific customers with an interest in lawn care, or who fall into your target demographic. And the more targeted your leads, the better your chance of signing a new client.
Plus, you know how to calculate your CPL now. So paying for leads isn't scary. When your revenue exceeds your CPL, you can scale up and generate as much revenue as you want.
#1 – Run a targeted PPC Campaign (Google and Facebook)
No list of paid lead-gen tactics would be legit without mentioning a Pay-Per-Click campaign.
Your own PPC campaign can be run on a variety of platforms, but we'll focus on the two biggest and most valuable:
The benefit of running a landscaping paid ad campaign vs. a free strategy like SEO is the targeting. You can create a page on your website for 'affordable retainer wall construction' and bring in site visitors from all over the country. Some might live 500 miles away, some might not have the money to invest in a retaining wall, and some might have just clicked on your blog because they're bored and waiting for their Uber Eats to arrive.
With a PPC campaign, you can position your ads to appear to the EXACT customer you want to target.
Looking to advertise to homeowners living within a 20 mile radius of your business, over 45 and earning more than $55,000 a year?
No problem, Google Ads and Facebook Ads let you set your targeting on a micro-level. This helps you generate leads, because your message is so relevant. It also reduces your wasted spend, because your ads are appearing in front of people most likely to become customers.
Setting up a Google Ads or Facebook Ads campaign needs a guide of it's own….and we already put that guide together for you.
Learn how to create a profitable PPC Campaign (Google Ads OR Facebook Ads)
#2 – Turn your website into a customer-conversion engine
You need a website. You know it, we know it, the guy behind you in line at the coffee shop knows it.
So we're not going to leave you with a basic tip like 'create a site' and move onto the next lead-gen tactic. You're here for strategies that WORK, and we're gonna give 'em to you.
Because every landscaper has a website, but that doesn't mean their sites generate leads.
A poorly made website is nothing more than a digital business card. It has contact info, but with constant competition for customers, why would anyone spend time on a site that's nothing more than a list of services, a phone number, and the underlying message of "Call us because we want your money"?.
Your landscaping site needs certain high-converting features which help drive quote requests and call-outs.
These features take an informational site and transform it into a customer-conversion engine that brings in leads 24/7. Some of the features that help drive leads include:
Guarantees (e.g. Satisfaction guarantee, On-Time Guarantee, Money-Back Guarantee)
Trust Badges (e.g. industry partnerships, awards or landscaping memberships)
Project Galleries (try using before and after images to showcase your skills)
Free Quote Forms (reduce the amount of info you ask for to increase leads)
If you're keen to discover the full list of high-converting features, we've rounded up 15 elements your website needs if you want to become the #1 landscaper in your area.
Keen to transform your site into a customer-conversion engine? Click here for the top 15 BEST landscaping websites (steal their high-converting features…seriously, steal them!)
#3 – Create a $50 referral program
If you're struggling to find leads, use your current clients to do the work for you.
Creating a referral program incentivizes current clients to go out and find you new clients. Try offering a $50 discount on their next service (or another promotion you feel comfortable with) and you'll see how quickly your customers will open their phone books to call up friends and family who have been thinking about styling their yards.
A referral program helps in two significant ways:
81% of customers are more likely to engage with businesses offering referral programs
Referred customers bring a lifetime value 16% higher than non-referred customers
This means you bring in more business AND your new business is more profitable.
Win-win.
And it's all done by giving your current clients a minor reward, so that you can profit.
Imagine if 10 of your customers brought you leads. You'd be down $500 in discount vouchers (10 x $50). But if your new clients spend an average of $800 per service, you'll have generated $8,000 in new business ($800 x 10).
Not bad for outsourcing lead-gen to your existing customers.
#4 – Follow your customers online with ad retargeting
97% of people who leave a website NEVER come back.
If you've done the hard work to attract site visitors with SEO or paid ads, odds are you'll still lose them.
You can tip the odds in your favor by using ad retargeting to show ads to those same people as they browse online. For example, suppose someone clicks on a blog you wrote about 'luxury landscaping designs' but leaves without requesting a quote. Ad retargeting will display banner ads on other websites to promote your luxury landscaping services and keep your business top of mind.
The average customer needs to see your brand 7 different times before they'll commit to a sale, and each ad that follows them around online helps you hit that magic number.
You would have seen the power of ad retargeting already.
If you've ever jumped on your favorite site and seen an ad for a product you've recently been searching for, it's not magic. It's a proven way to reinsert your business into a potential customer's mind after they've left your site.
#5 – Direct mail (with a technological twist)
No, you haven't stumbled through a wormhole and woken up in 1994.
Direct mail can be an effective lead-gen tool in 2021. The trick is to pair direct mail with digital marketing strategies to deliver the best results.
For example, don't print 2,000 flyers that replicate what someone could read on your website. That's not adding value to a potential customer's life.
Instead, print flyers with a QR code or discount voucher to be applied on your website. You can reduce the number of print materials you pay for (which lowers your costs) and focus on a specific neighborhood or zip code.
As people head online to find your site and apply their discount code you'll end up with more leads (because you offered great value) and better SEO (because a website that people spend time exploring is a website Google wants to rank higher).
#6 – Hire a lead-generating agency (not a marketing agency)
OK, you got us.
This one is a little self-promotional, but if you're going to pay for leads, wouldn't you rather pay for a service knowing it will deliver results?
Running your own Google Ads or SEO campaign will cost you money, but the DIY approach doesn't guarantee leads. Most landscapers are optimizing their GMB and writing blogs around keywords, so you'll need to deliver a lead-gen strategy 10x more effectively than them if you want to stand out.
At Tradie Digital we offer digital marketing services – but we're not really a 'marketing agency'.
We're a lead-gen company with a focus on bringing more customers to our trade business clients. Would ranking #1 on Google for 'landscapers' look good on a report? Sure. But if the majority of people looking up the keyword 'landscapers' are looking for pictures, DIY tips, or landscaping equipment to purchase, then those rankings are a waste of time.
We're committed to increasing your leads. And we're so confident in our approach that we offer a Lead-Increase GUARANTEE.
If we can't drive more leads than you're currently getting, we'll cut you a check for $300 and be on our way.
Wondering how we can GUARANTEE leads? Learn how we back up our outrageous promise
Bonus landscaping lead-gen tactic: Do great work
OK, we know this lead-gen tactic may sound unorthodox. But the truth is, nothing advertises your businesses like a job done well.
Your customers spend more time online than ever, but word of mouth will always help build your brand and generate leads when you're not around.
Completing landscaping projects that blow people's minds will have tongues wagging. When your satisfied customers host friends and family in their new outdoor space they'll get asked, "which landscaper created this for you?". That's free advertising right there.
The more often your business is spoken about, the more likely you'll get a call from a lead who'd been referred to you by one of your previous clients.
Better still, this has a snowball effect. The more projects you knock out of the park, the more your word of mouth will grow, and the more projects you'll be hired for.
30 second recap for busy landscapers
The lead-gen tactics outlined here aren't your garden-variety suggestions like 'use SEO'.
Using SEO as a lead-gen strategy is so vague that it's useless. Whether you're turning over $1 million a year or $10 million and looking to grow, our strategies are specific and designed to open up a new pipeline of leads so you're never without work.
Instead of picking one tactic and pouring your time and money into it, consider choosing a handful and growing each lead-gen channel slowly.
A variety of plants and flowers in a yard looks better than 50 shades of green. And a mixture of free and paid lead building tactics will set your landscaping company up for success tomorrow and into the future.
Curious to learn more about our 'Lead Increase Guarantee'? Click here to organise a free consultation with us to find out more