LANDSCAPING
7 MINUTE READ
Top
10 Landscaping Apps

To Save You 10 Hours A Week [Full 2021 List]
You're a busy landscaper, so if you've ever thought "there's got to be an easier way to get this done"…you're 100% right.
With the number of landscaping apps and lawn care software available, it's never been easier for you to work smarter, not harder. To help you save more time, we've put together a list of the 11 best landscaping apps and software you can use to help you with your next project.
You're a landscaper. But you also work in sales.
It's your job to sell a vision of an outdoor space to every potential client you meet. And to help land those sales you'll need to create high-quality and realistic landscape plans that turn "imagine what this will look like" into "here's EXACTLY what this will look like".
But you've got a problem…
Creating these landscape plans takes time. Plenty of time.
Compare a landscaper who draws every element, measurement and detail against a landscaper using a design app on his tablet or phone and you turn a 10 hour project into a 1 hour project.
With the right software you don't even need to draw a single line. Instead, choose your design element, measure to the millimetre, assess the soil and and drop in a complete design with software that slashes the time it takes you to do, well, everything:
Quote
Sales tracking
Track projects
Software automation can save you 10+ hours a week across these tasks and make running your business a simpler, more streamlined process. That means less nights spent catching up on design proposals, less time wasted commuting to and from job sites, and less time lost to admin and red tape.
Ready to make your landscaping business more efficient? Here's everything you need to know about the best landscaping apps available in 2021.
What are the benefits of using landscaping apps?
Working in the landscaping industry means there are countless variables to take into account.
Whether you're designing an open-style backyard, looking to create a functional outdoor living space that blends the interior and exterior spaces, or you're sourcing the right plants for the unique microclimate you're working in, planning ahead is crucial.
Landscaping apps help you improve the accuracy and reliability of your plans in two ways:
Streamline the process of drafting and collaborating on designs
Facilitate the accurate project management of outdoor spaces
Need to quickly determine whether a client's yard can fit their drea pool? Need to figure out how much soil you'll need to move to create a new limestone retaining wall? Need to order the exact number of clay bricks for a new patio?
Landscaping apps provide an extra team member in your pocket.
Across measuring, designing, ordering, tracking and invoicing – there are plenty of reasons to adopt new technology into your day-to-day landscaping business, and they all come down to one crucial advantage.
Time efficiency.
Your landscaping business is only as successful as it is efficient
If drawing a custom design sketch and creating a project proposal takes up your entire day, you'll be limited in the number of projects you can take on.
This problem can't be solved by hiring more landscapers or admin staff either, as the more employees you bring on, the higher your costs in wages and other overheads.
The solution? Use your time more efficiently.
Of course, landscaping apps and landscape design software won't do your job for you. There's no app that can install a Bloom Box or dig up the soil in preparation for a retaining wall (at least not yet).
But you can use technology to open up your schedule and benefit your landscaping business in the following ways.
| Save Time | Increase Creativity |
| --- | --- |
| Your landscaping business can only scale up and increase profitability when you start using your time efficiently. Less time spent drawing, planning, quoting, measuring, scheduling and billing means more time on-site and chasing up new customers. | Augmented reality software allows you to create hyper-realistic designs without limits. Through dragging and dropping design features you can unlock spaces in a way that's not always possible working with manual design processes. |
| Reduce Costs | Stronger Client Relationships |
| Landscape designing apps and software let you create a virtual project without breaking ground. And with your project designed to the smallest detail you can order materials to suit, with zero wasted spend on ordering the wrong quantities. | Landscaping software gives you the ability to show a client their future yard before the project starts. With design tools on your side you'll be able to overcome client obstacles and build valuable connections that lead to repeat business. |
What features should you be looking for in a landscaping app?
This really depends on the type of landscaping app you're looking for, as each app offers unique features. Remember, just because you can supplement your landscaping business with technology doesn't mean you should.
Whether you opt for a free landscaping app or paid landscaping software, keep an eye out for the following time-saving features that best suit your needs.
| | | |
| --- | --- | --- |
| Virtual Design & 3D Visualization | Custom Proposals | Quotes & Estimates |
| Lead Generation | Material & Product Ordering | Billing & Invoicing |
| Plant Encyclopedia | Irrigation Design | Scheduling |
| Reports | Project Management | Plant Growth Zones |
| Weather & Soil Tracking | Review Management | Timekeeping & GPS |
Landscaping design software and landscaping apps should simplify your processes, not make things more complicated and stressful.
Whether that's making it easier to share a custom design with a client, easier to order the specific materials needed for a job, or easier to invoice and bill a customer at the completion of a project – use our list to match the features you're after with your landscaping needs.
Read on for the top 10 time-saving landscaping apps and software you should consider in 2021.
PLEASE NOTE: All prices in USD.
Best landscaping CRM apps
iScape is used by thousands of landscapers around the world to save time, streamline processes and generate more money.
An augmented reality visualization app for mobiles, iScape allows you to show a customer what a finished landscaping project could and would look like. This AR projection can reduce the friction between sales and help boost your conversion rate, which provides a crucial advantage for field-sales teams.
With the ability to create job proposals and material lists on the spot this app makes each project more efficient without dashing back and forth between your office and your job sites.
You can visualize an extended flower bed, row of trees, or a new entertainment area through augmented reality or uploading images, all from your smartphone.
NOTE: Available on Apple devices only.
FEATURES
Virtual Design & 3D Visualization
Custom Proposals

Lead Generation
Material & Product Ordering
Price: FREE (limited features) | PRO $29.99/month | Enterprise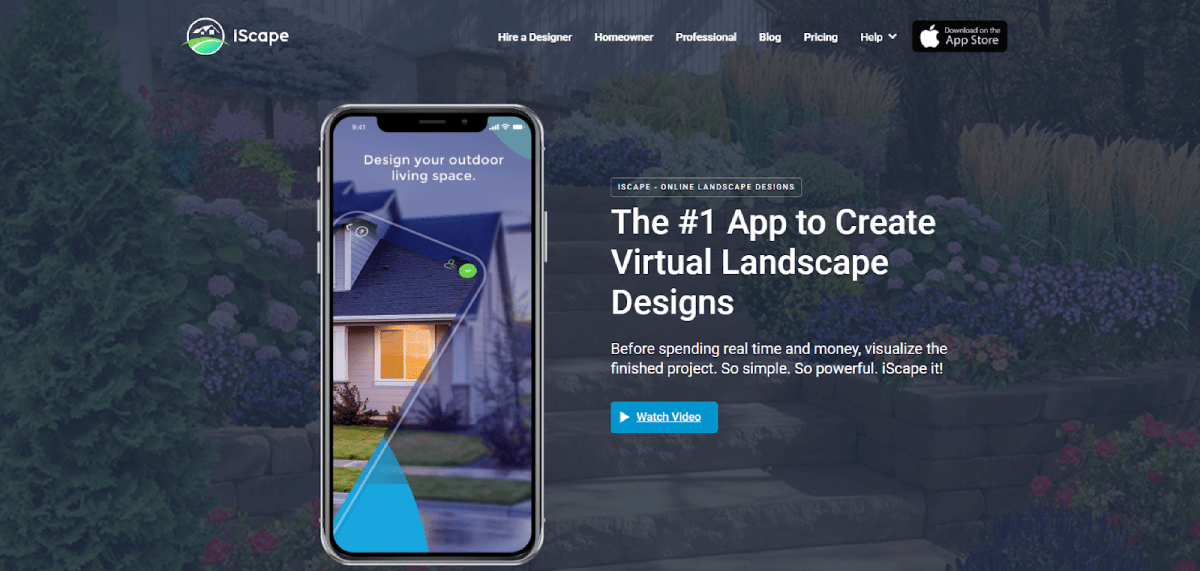 Marketed as the best selling design software for landscape professionals, Pro Landscape is a powerful CAD software that allows you to visualize your landscaping projects in front of a customer's eyes.
Start by snapping a picture of a client's outdoor space then drag and drop design ideas to help create an AR yard and close a sale. As a field-sales tool you can create instant quotes based on your pre-set prices, so there's no need to head back to the office to draw up a proposal.
The Pro Landscape image library contains 18,000+ stock images and objects so the ability to customize a unique outdoor space is practically limitless. You can even set your unique climate zone so only plants suited to your customer's home are available.
FEATURES
Virtual Design & 3D Visualization
Custom Proposals

Lead Generation
Material & Product Ordering
Price: $1,245 [Includes installation on 2 computers and use of the companion app on mobile and tablet devices] Explore Pro Landscape here
#3 – Realtime Landscaping
The Realtime Landscaping software allows landscapers to create custom 3D designs, and CAD drawings of fences, pools, gardens and more.
Available across four versions – Photo, Plus, Pro and Architect – inclusions vary according to the level of software you purchase.
With Realtime Landscaping you can skip the sales pitch and move straight to the presentation, with up to 7,400 plants and landscaping features available to present ideas for approval in real-time (hence the name).
The 3D visualizations look extremely realistic with the ability to simulate landscape lighting and curved property boundaries for a fully customizable landscaping software.
Need to design sheds? Create a multi-story deck? Add retaining walls? Even predict future plant growth?
With Realtime Landscaping, you can.
FEATURES
Billing and Invoicing
Quotes and Estimates

Virtual Design & 3D Visualization
Custom Proposals
Price: Plus $99.95 | Pro $149.95 | Architect $399.95
Explore Realtime Landscaping here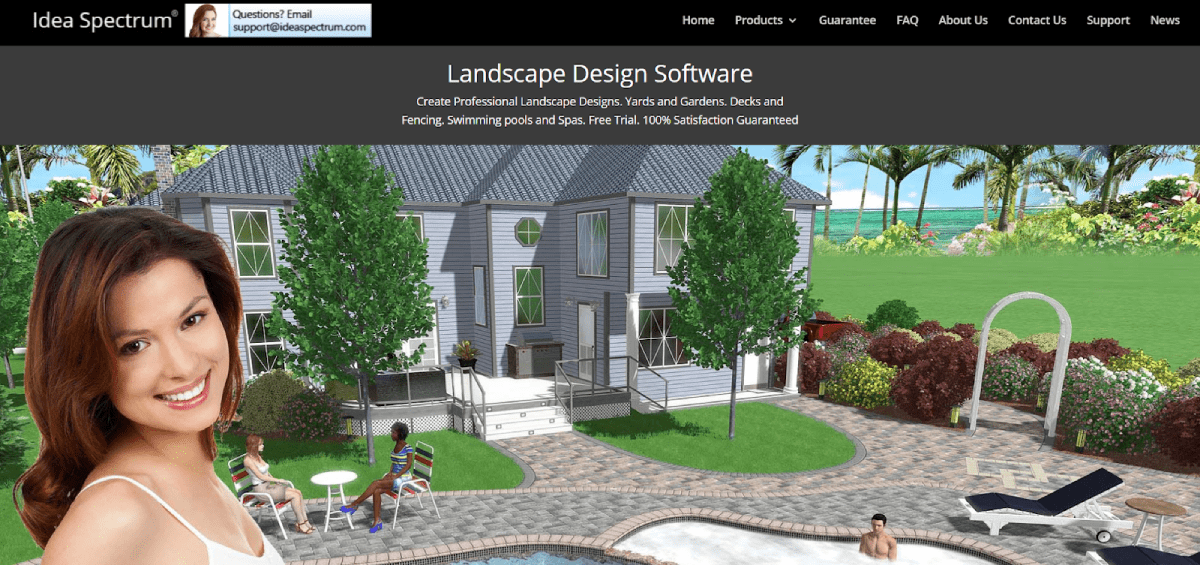 Planimeter uses satellite imagery to provide inch-perfect measurements based on existing maps.
With this app on your phone you can survey a potential customer's property and get an exact sense of its size. Choose from GPS-based search functionality or enter an address to manually search for a location. Your captured data can also be saved and exported to help you create designs or share info between team members.
Lawns, fences, gardens, entire properties – Planimeter is the quick and accurate way to measure distance without stepping foot on a potential client's property.
FEATURES
Price: $7.99
Knowing which plants will thrive and which plants will end up dried out and dead is part of your role as a landscaper. With roughly 390,000 plant species on earth though, you'd be hard-pressed to memorize them all.
With LeafSnap, you don't have to.
As the name suggests, this landscaping app allows you to identify a plant based on its leaves. The app claims to be able to recognize up to 95% of all known plant and tree species, with photos uploaded directly from your camera, or from your photo library.
As a bonus, LeafSnap can identify plants based on visible leaves, flowers, fruit or bark, so there's no need to find a clear line of sight to discover what plant species are on your work site.
FEATURES
Identify 95% of Plant Species
Plant Encyclopedia

Use Camera or Upload Photos
Price: Free (with ads) | Paid (ad-free) $6.99/month
Lawncare Journal understands the need for detailed info on soil, climate, weather and every other variable that has the potential to elevate or ruin an outdoor space.
With the ability to track landscaping tasks across multiple properties, Lawncare Journal is your personal brainstrust helping you with tasks from measuring the correct amount of fertilizer based on soil mineral composition, to top dressing calculations; as well as calculate product costs per application or price per square foot.
You can also monitor real-time weather and soil temperature to ensure you're not leaving the quality of your project up to chance.
NOTE: Available on Apple devices only.
FEATURES
Weather & Soil Tracking
Product Cost Calculation

Fertilizer Calculation
Square Footage Calculation
Price: FREE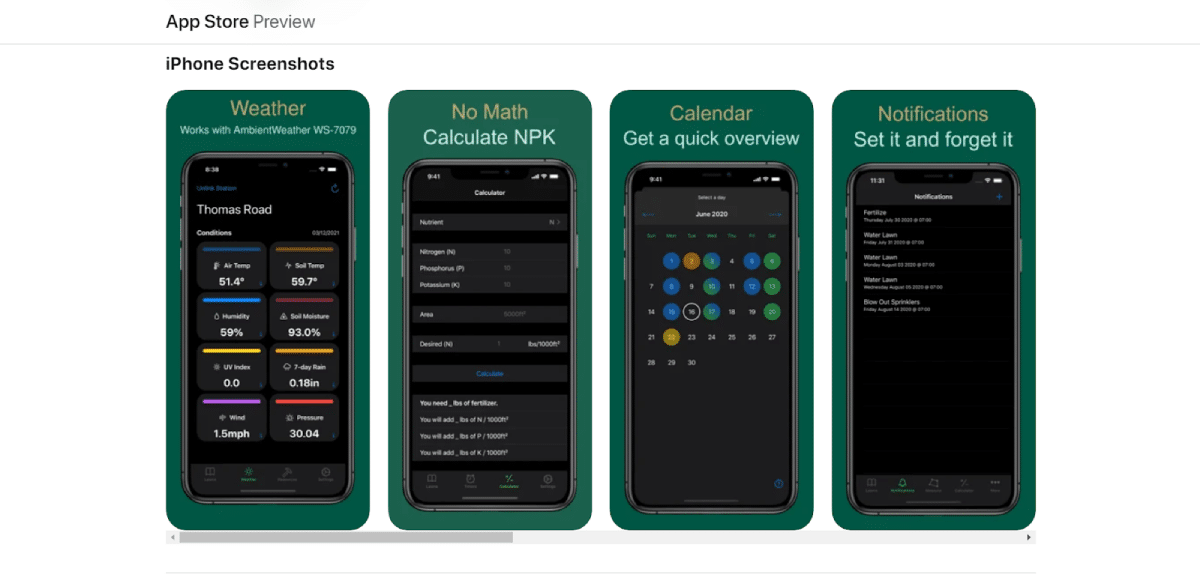 All landscapers can benefit from landscaper – the app that is.
Landscaper offers a simple answer to a constant question; "how much do we need?".
Whether you're looking to assess how much soil you'll need to level out a yard, how many cubic yards of mulch a fresh garden space requires, or how many plants will adequately fill the corner of a new patio space, Landscaper provides accurate calculations.
Simply enter the size of your project area in square feet, select the relevant measurement to suit your needs – for example the spacing between plants or the depth of soil – for fast and accurate figures.
Now you can afford to leave the trainee in charge of organising plants and not worry about ending up short.
NOTE: Available on Android devices only.
FEATURES
Mulch Calculation
Square Footage Calculation
Price: FREE
One of the most effective ways to grow your landscaping business is also the cheapest – positive reviews.
When a product or service gets a 5-star review, the chances of it being purchased increase by 270%. Collecting 5-star reviews from your customers is more than a vanity metric – it has a direct impact on your revenue.
Nice Job is a reputation management landscaping app that automates the process of collecting reviews so you don't have to chase anyone up yourself. Keeping things simple, Nice Job reduces the process of earning a review down to 2 clicks and 30 seconds, using AI-software to detect when a customer hasn't left a review, which triggers a smart reminder.
Best of all, you don't even need to copy and paste reviews to your website or social platforms, with Nice Job your reviews are automatically distributed where they'll impact new customers the most – like Google and Facebook.
FEATURES
Review Management
AI-Customer Service

Website Publishing
Social Media Publishing
Price: $75/month
As a landscaper or lawn care expert you spend plenty of time on-site. When you complete a project, or you need to create an estimate, you can't afford to be driving home or to the office to put the invoices and proposals together on the computer.
Although not strictly a landscaping app, Invoice2Go lets you create and send professional invoices in minutes. You can even customize your invoices by adding your landscaping logo and send your invoice via text or email to save time.
As an all-in-one billing tool, Invoice2Go is packed full of features, giving you the ability to:
Collect 5-star reviews as part of the invoicing and payment flow (then post them on your Facebook or Google My Business listing to show off)
Generate leads and track sales opportunities
Track your work hours for accurate invoicing (or track your team)
Capture and organize all expenses per client
Create, send and track purchase orders without the need for extra software
Over 200,000 small business owners use Invoice2Go with this intuitive software unlocking up to 3 hours a week that would have been spent hunched over the computer or entering dull data.
FEATURES
Billing & Invoicing
Quotes & Estimates

Material & Product Ordering
Time Tracking
Price: Lite $4.67/month | Standard $13.33/month | Advanced $23.34/month | Unlimited $45.84/month
A poor landscaping website can lead to the largest drains on your time if people can't find what they're looking for and spam our inbox with basic questions, or if your site fails to generate leads so you're left chasing referrals and time-wasters each weekend to try and find work.
As a drag-and-drop website builder created specifically for landscapers, Pedestal websites can be created in under 60 minutes. Even better, Pedestal comes with ready-made landscaping templates so there's no need to design a thing, just point, click, and you'll have a professional landscaping website instantly.
Pedestal sites also come with built-in marketing, lead-gen, and conversion features – with landscaping sites created on Pedestal's platform generating an average of 26.7% more leads than other website building platforms.
FEATURES
Drag and Drop Website Builder
Lead Generation

SEO-Friendly
Marketing Analytics
Price: FREE Trial | Pro plan $49/month
30 second recap for time-poor landscapers
Scrolled straight to the 30 second wrap-up because you don't have a spare 10 minutes to browse articles on Google?
We get it. That's exactly why we wrote this guide and why you're the type of landscaper suited to the apps we've listed.
There are hundreds of apps and landscaping software you could be using, but the most important thing is to choose apps that make running your business easier, not more complicated.
Prioritize apps that will help your business NOW.
Whether that's help with your estimates, your measurements, your designs, your scheduling or your invoicing is up to you. But don't feel like you need to fill your phone or laptop with every app at once.
If you can find a landscaping app, or multiple apps, that help you reduce the time it takes to apply your processes without compromising quality, you'll start to find 11+ hours every week that you can reinvest back in your business.
The end result is more accepted proposals, less wasted spend on materials, smoother sales processes and more revenue – all with time to spare.
Looking for more ways to grow your landscaping business?
Sign up to our newsletter. We'll never spam you, but we will send you tips to help you make more money.