How To Make An
Awesome Roofing Logo

For Your Business
A roofing business without a logo is like a person without a face. No matter how many times you hear about them, they'll never be the first image that pops into your head when you need help.
Your logo isn't a random picture pulled from Google that you think looks cool or your business name in a fancy font. It's a strategic business tool that grabs instant attention, sticks in people's minds, and fosters customer loyalty as your business grows.
But enough about the benefits, here's how you make a logo for your roofing business…
Guess what?
No one cares about your logo.
But people DO care about whether your roofing business is trustworthy, whether you're an expert in the field, and whether your business values align with theirs.
And your logo will either make people feel warm, happy and in safe hands; or it will give off the impression you're cheap, low-quality and not to be trusted.
So while people *think* they don't care about your logo, they actually judge your business on it every time they see it.
This guide is for you whether you've been working on roofs since the '80s and don't flinch at the touch of a searing hot stainless steel roof, or whether you're launching your own roofing business and looking to get the basics right.
We'll cover:
Why you need a roofing logo
Where to get logo inspiration from
Your logo creation options (we've rounded up the 'Big 3')
DIY design tips if you're the type to have a crack yourself
And a few pitfalls to avoid at all costs
Ready to turn heads for the right reasons? Let's get into it…
Why do you need a modern roofing logo?
We get it, plenty of your work comes through word of mouth and that's awesome.
But if you want to grow your roofing business to be big enough that your team has work to do while you take time off, go on a holiday, or spend time with the family, then you need new customers to be coming outside of referrals.
That means you need to be found and remembered.
Being found by new customers is an entire guide in itself that covers marketing strategies like SEO, Google Ads, or Social Media. But we're going to focus on the second part of that equation – being remembered.
Here's why sticking in a customer's mind is so valuable…
See those three logos?
99% of people on the planet can name those businesses based on their logo alone.
We're not saying your goal is to be recognised by everyone in the world, but the same logic applies to your business if you want to stand out in your local suburb.
Your logo should be memorable so that when people see it they immediately think of you (if they know about your business) or want to get to know more about you (if they've never heard of your business).
When your logo triggers positive memories or feelings about your business, you're already guiding people towards a quote request or booking.
Check out your competition for roofing logo ideas
Stuck on roofing logo ideas?
Check out your competition to see what logo styles are in the market and what jumps off the page. We know what you're thinking here and this isn't about stealing ideas, but the opposite.
If every roofer in your local area is going for a black and white logo, you could use colour to stand out from the crowd. If everyone is using text-based logos, you could use more images.
The goal is to set yourself apart from your roofing competition, and by spending a little time on their websites or social media pages you'll get a sense of their logos and how you can stand out.
Let's face it, there are certain symbols that become standard in each trade industry.
For roofers, this means plenty of logos have some version of a roof in them. On an individual level, this makes sense, if you work on roofs you want to let people know that's your specialty, but when a few hundred other roofers also have that idea, you end up vanishing in the crowd.
Always check out your competition because a good logo reflects who you are – but more importantly it distinguishes you from everyone else.
You don't want to end up looking like a generic clone created by a roofing business mad scientist. Case in point below…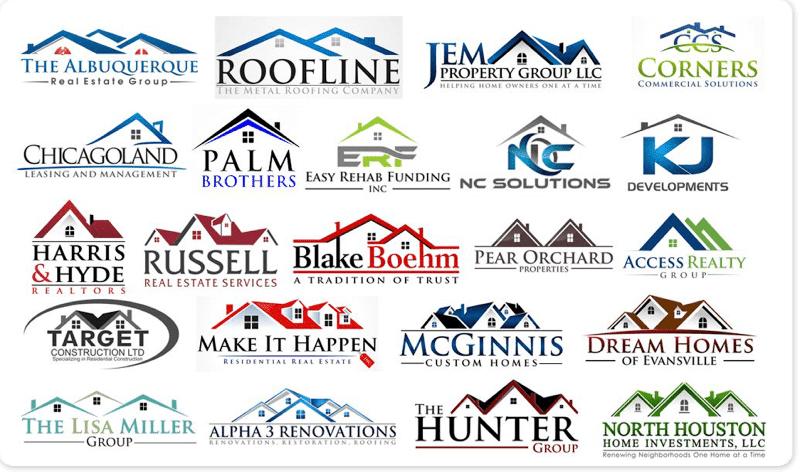 (Source: Pinterest)
FREE REPORT
The Ultimate Website Guide For Tradies
Successful examples of roofing company logos
What characteristics sum up your roofing business?
You'll be writing about these qualities on your website and wanting to show them off to potential customers in every roofing job you take on, but consider adding them to your logo too.
Check out these example roofing company logos to see how each one communicates its own brand personalities and values.

Source: Pineapple Roofing
'Pineapple Roofing' is fun and approachable based on this logo. They probably service a young, inner-city client base and don't take themselves too seriously. They're modern and don't take themselves too seriously. If those are values YOU find important then seeing this logo will make you feel warm and fuzzy inside, and Pineapple Roofing has already laid the groundwork for you to become a customer.
Whereas the business 'Roof Improve' are focused on making sustainable roofing choices and probably cater to a client base that care as much about environmental benefits as they do about financial benefits. Again, if those values you find important then this roofing company is closer to making you a customer than any other.

Source: Roof Improve
What are the options for your roofing logo?
Weigh up your logo options. You can go with a pro, work with a freelancer, or build it yourself
The global roofing market is worth north of $100 billion, which means there are plenty of customers but plenty of competition for you to go up against too.
Your clients want experienced roofers, offering affordable prices, and with peace of mind guarantees – the standard stuff expected from an above-average roofing business. But they also make decisions based on 'gut feeling'.
The roof is an important and expensive part of the home, and people want to hire roofing businesses they trust. As a roofer, you need to find ways to boost that level of trust, and one of the most subtle ways to do that is through a logo that's professional, clear, and makes you look like the expert you are.
Luckily, there are plenty of options to suit your budget and goals. These cover hiring an agency, outsourcing to a freelancer, or creating the roofing logo yourself.
✔ Hire a professional agency
Hiring an agency to design your logo is like hiring a kitchen renovator to upgrade your kitchen. Sure, it'll be the most expensive option but the pay-off is worth it.
In the case of your kitchen, you get a new room that looks incredible and adds value to your home. And in the case of your logo, you get a ready-made design that stands out and makes your business more trustworthy – not to mention the files you need to use your new roofing logo in any print or digital form with ease.
If you're launching a new roofing business this option may feel out of budget, but it's worth speaking to a few logo design agencies to get a feel for their process and prices.
At best you'll find a great deal and snap up a pro logo on a budget. At worst you'll learn what type of features the pros recommend so when you go down a different logo-creation route you'll have a few ideas to help you get started.
Freelancers are the handymen of the design world. They can do a little bit of everything, but as a jack of all trades, they don't have the same level of skill as a specialist.
This can be a cost-effective option for your roofing business, especially if you're just starting out and looking to keep your upfront marketing costs down. Thankfully, there are plenty of online marketplaces where you can compare logo freelancers and message candidates with questions or ideas to help you find someone you trust to bring your logo to life.
These websites are full of freelance logo designers willing to knock up a logo for you for prices starting at a handful of dollars and up.
You'll typically have a set number of revisions included in your freelance logo agreement, but the expression "you get what you pay for" does apply when you're outsourcing your logo, so do your homework carefully.
✔ Design your own roofing logo
Whether it's terracotta tiles or the latest slate roof, you're pretty good with your hands and you're not afraid to get stuck in.
If you want to bring this attitude across to your logo design there's nothing stopping you from getting behind the wheel of one of the many graphic design and logo-creator software tools online.
The most popular graphic design tool online is Canva, which is easy and free.
Canva has simple search functionality that lets you look for logo templates. So you can pick a finished template, or find one you like and start making changes to the design, colours, typography, and more.
Not that Canva is your only option. There are plenty of logo making tools online, including:
What's that? You're not sure what design changes to make?
We thought that might be the case, so we went ahead and rounded up a few practical tips to make your journey from 'average logo' to 'awesome logo' an easy one.
A good logo brings new customers to your roofing business
Your logo isn't for you. It's for your customers.
Whether you're jumping on a graphic design platform or chatting to an expert, keep this in mind at all times. A logo should look good, but the goal isn't to win a fancy award – it's to make your roofing business stand out, and project the qualities of trust and expertise that make people go "oh wow that roofing business looks legit, I'll give them a call".
We could throw logo stats at you all day right now. Like the 50% of people who are more likely to do business with you when they recognise your logo.
But you only need to think of a time you've landed on a website, been put off by their design, and thought "nah, I don't like this vibe, this isn't for me".
Your logo is often the first time a new customer comes into contact with you.
So if it triggers the same negative gut feeling, they'll run for the hills just like you do when you get a bad vibe from a business' website design.
FREE REPORT
The Ultimate Website Guide For Tradies
Roofing logo design tips you'll want to keep in mind
When it comes to your roofing logo, recall is going to be key.
To be honest, plenty of people will forget the name of your business (it's not personal, people just have crappy memories) but it's easy to connect a logo to your business – and more importantly, how your business makes people feel.
This helps bring in new roofing customers without you lifting a finger as people see your logo, think "they do a great job, I feel good about this brand, and I'd trust them on my roof" and call your phone when they next spring a leak or need their solar panels cleaned.
But what makes a good roofing logo? We're glad you asked.
Here are a few logo design tips that never go out of style.
✅ Use a Readable Font
Fancy fonts might look cool or even professional, but they're bloody hard to read from a distance. If your clients are older and need the odd pair of reading glasses you're shooting yourself in the foot from the very start.
Font readability is also important because your logo is going to shrink a lot. Whether it's on your site, a business card, or a Facebook post, fancy letters get difficult to read the smaller they get.
Tradie Digital Tip: Stick to a font that's easy to read without squinting.
✅ Keep the Colours Simple
Just because you CAN use every colour under the sun doesn't mean you SHOULD. Colour improves brand recognition by up to 80%, so you want to get your colours right.
The most memorable logos stick to a simple colour scheme of 3 or under. Coca-Cola is red and white. Bunnings is red, white, and green. Come to think of it, VB is red, white and green too.
The point is, less is more.
Tradie Digital Tip: Go for solid colours over fading colours. Avoid colours that clash or make your text hard to read.
✅ Use images but don't go overboard
You want people to remember your business name, and images are easier to remember than text. You can get the best of both worlds by using both your business name and an image in your logo.
Keep in mind, the worst mistake you can make is to go cliche or do what everyone in the roofing industry is doing. You work on roofs, your customers get it, you don't necessarily need to slap on the outline of a roof to get your message across.
What NOT to do when choosing a roofing logo
Designing a logo seems like one of the smaller tasks to tick off your list, but there are a few pitfalls to watch out for. Here's what NOT to do when settling on a new roofing logo.
✘ DON'T…be cliche. You're a roofer, but that doesn't mean you need to include a roof in your logo.
✘ DON'T…settle for a garbage logo to save a few bucks. People will connect the quality of your logo with the quality of your business, it's not the place to go discount-hunting.
✘ DON'T…choose a hard-to-read font. Simplicity is better than style every single time, so make sure people can read the name of your roofing business.
✘ DON'T…make it too complicated. Simple logos are easier for people to remember and look better on the side of your van or business card.
✘ DON'T…fall for the latest logo trends. Needlessly contrasting colours, poor font choice, abstract designs – avoid trends that will make your logo look outdated next year.
Now you're ready to go out and raise the roof with an awesome new logo
You've got a million things on your plate as a roofer.
Whether you're up on the roof with tools in hand, or back at the office working out the logistics for your roofing team, you don't need to be distracted with wading through the endless logo design crap that's on Google.
And now you don't have to.
Hire an agency, find a freelancer, or get behind the wheel of a logo-design tool online – whatever direction you go you've got all the info you need to create a logo that's easy on the eye, sticks in the brain, and attracts new customers who get a "good feeling" about you.
Because no one cares about your logo – or at least that's what they think.
Now you know better, and you can create a roofing logo that makes you stand out for all the right reasons.
Ready to build something bigger than a logo?
You've got a plan for your new roofing logo, and if you've been inspired to transform your entire digital presence then a website won't be far off your radar.
The idea of creating a brand new roofing website can be overwhelming, especially if you've got no experience. But with simple website builders created specifically for tradies – like Pedestal, you don't need any experience at all.
Pedestal is the built-for-tradies website builder that comes pre-optimised with marketing strategies embedded in the design. With a focus on ROI, Pedestal websites generate 26.7% more leads than other website builders.
Click here to start your FREE trial today and create your own Pedestal website within the hour.