How To Create A
Cleaning Website

Under One Hour
Sweep up the competition (see what we did there?) with a professional website that captures the eye and generates consistent leads and new customers – all without stressing over costs or content.
Industries come and go, but as long as people make a mess, they'll need cleaners.
Cleaning services have long been popular across residential and commercial sectors, with a focus on sanitation and hygiene becoming more of a focus during the pandemic.
The cleaning industry is expected to grow 7% by 2026, which will open the door for more customers, more business, but also more competition for you.
It doesn't matter if your local area is opening up after a COVID-19 lockdown or if life has continued as normal, companies, offices, and residential properties will need cleaning services. No matter whether you focus on residential or commercial cleaning services, you'll need a website to help you stand out and generate consistent work.
A cleaning website is a powerful place to show off your services and help create trust, which your customers need to reach out and hire you.
But how do you build trust through a website? Scratch that, how do you build a website at all?!
With the demand for your cleaning services, you might not have a lot of time to spend putting together a marketing strategy and building a website, so we've made it easy. Creating a site from scratch is as easy when you've got a plan. Just like cleaning an office space is manageable when you've got a plan.
Read on to discover how to create a cleaning website in less than 60 minutes.
"Do I need a cleaning services website?"
Short answer, yes.
It's okay if you don't have a website yet, but you'll need to get moving to fix that ASAP. Thankfully, website builders make it easy to construct a cleaning site whether you're just starting out or you've been in the game for years.
The harsh truth is, you can't rely on word of mouth referrals for new business anymore.
Consumers are taking to the internet to search for the best fit for their needs. If you aren't in their search results, you aren't in the running for the work. And even if you do appear but have an amateur layout or site that loads painfully slowly, your credibility is on the line. 75% of buyers will judge you based on how your website looks.
Unfair? Maybe. Facts? Definitely.
To help grow your cleaning services business you're going to need a sleek, SEO-friendly website so you rank when people type your business name into Google or look "cleaning services" online.
7 benefits of a cleaning services website
The first step to creating a successful cleaning business website is to know what to include and how to make it resonate with your customer's problems.
Your website should be centered on telling potential customers WHY they should choose you and HOW to get started. Here are the 7 striking benefits to putting your business online in the form of a sleek, professional website.
A website tells your customers what to do
An effective website shows site visitors how to take action. They searched for cleaning services and found your site. Wonderful! Now what do you want them to do?
Make it crystal clear how they can take the next step, including:
Call for a quote
Book a consultation
Sign up to get on your schedule for next month
Don't let people leave without knowing how to act.
A website tells your customers what you do
Before they sign up for anything or book you, people want to be sure you offer what they want. Outline all of your services clearly and concisely so they can check their requirements against your info. Having a tagline that underscores your focus is a bonus, for example – 'We're the Office Cleaning Experts' or 'End of Lease Cleaning Professionals'.
A website shows your customers what you do
A picture is worth a thousand words and can be worth just as much money in the form of a new client. Be sure to include pictures and demonstration videos that show your team in action with the latest gear and products to help convince people they can trust you to help clean up their mess.
From pandemic sanitation to making a former hoarding house shiny clean again, share your stories on your website. This can make you more relatable as well as more credible to readers and search engines like Google.
A website answers questions before they're asked
What are the top 10 or 20 things people ALWAYS ask you about your services? Jot them down and then write up the answers. You can add these to an FAQ page that can help people come to a quicker decision to choose your cleaning service.
People are wary to commit to a service without clear costs defined up front. That's fair. Show that you want to be transparent and accurate with pricing by offering free quotes or estimates. You'll weed out anyone who isn't serious, and you'll book new accounts with the rest.
A website boosts your credibility
You'll be entering the homes, offices, and businesses of clients. By publishing your insured and bonded credentials, you can show the protections in place for you and your customers. That way accidental damages are clearly covered, like if someone knocks over a fancy knickknack or shorts out a desktop device.
What you need to prepare before building your cleaning website
To get started, you'll need to gather a few essentials. These will give you the foundation for creating your cleaning company website in one fell swoop. Ready to add 'Website Builder' to your CV? Here's what you'll need to get ready before you start the designing process.
Your domain name is the web address for your future website. Think of it as the 'address' of your site, just as your own house has an address. You can choose any name you like based on your company name and focus, but try to use keywords (for example, 'commercial cleaner' or 'residential cleaner') where relevant.
A word to the wise, choose your domain name carefully. This name should be memorable so people can easily search for it on Google, and be easy to spell to avoid losing potential customers who couldn't figure out how to spell your business name.
One you pick a domain name, you have to make sure it's available and then buy it. You can use services like GoDaddy, Google Domain, or Name.com to take care of this step.
Choose a hosting provider
If your domain name is your website's "address" then the host is the house itself. You need a place to store your website, including all of your files, from fonts to photos, that will be kept within your hosting provider.
Hosting pricing can vary, so be sure to check costs, but a few great places to start are HostGator, BlueHost, and DreamHost.
Visualize your cleaning website
What do you want your website to look like?
This step can scare off cleaners and cleaning contractors who have zero idea how to design or code. But you don't need any experience at all!
You can use website building platforms that eliminate this hassle completely. (More on that later…).
Before you sit down and start designing your site, you'll need to answer a few crucial questions to help you figure out what your site will look like, and what goals it needs to kick.
What are your goals for your website? (e.g. brand awareness or lead generation)
What budget do you have to work with? (e.g. minimal spend or capped funds)
How do you want your brand to appear? (e.g. professional, fun, or both)
Who do you want to do the work (e.g. DIY, collaborative, or agency pros)
You'll want your real-world branding to follow you into cyberspace.
Get a file containing your logo so you can upload it to your website when the time comes. If you don't have a logo, you can use free (or low cost) tools to create one for your business.
Check out Tailor Brands, Canva, and FreeLogoDesign to get your creative juices flowing.
Your own cleaning website is your chance to share what you do and how you do it.
Prepare your content for key pages that every cleaning website needs. (Hint: If you use a website builder like Pedestal, these sections will be outlined for you, so it's easy to just drop in your copy).
| Page | Purpose |
| --- | --- |
| Home | Put your best foot forward and mention your core services and how you're different from the competition. |
| About | Tell your story with a little more detail such as years in business, team member bios, and what you want to achieve for customers. |
| Testimonials | Let others do the talking for you by featuring reviews and feedback from past and current customers. |
| Services | Outline everything you have to offer and a bit about how you do it such as facilities, methods, and equipment. |
| Blog | Have 2-3 blogs ready to go so when your site goes live you have a few stories to tell and can immediately establish your knowhow. |
| Contact | Give people as many different ways to get in touch with you as possible and make sure you're super responsive when they reach out. |
Picture this: a website with no pictures.
Sounds awful to us.
Gather up images of cleaning jobs well done, state-of the-art equipment, team members, and anything else you can use to tell a story. You can also use a number of stock photos or free website images if you're short on job-specific images – just make sure they are relevant to what you offer.
TRADIE DIGITAL TIP: You can use video to better tell your story or share tips. If you have an iPhone or smartphone in your pocket, you can film videos. Your customers will respond to authenticity, so don't feel like it has to be Hollywood standard. And with 73% of small business videos lasting less than 2 minutes, you can keep things short and sweet..
Why you should choose Pedestal to create your cleaning website
Alright, enough theory.
It's time to build your new cleaning website.
The problem is, there are hundreds of website builders to choose from. You've probably heard of Wix and WordPress as two of the leading website builders, but these come with significant disadvantages for busy cleaners.
Wix is a simple drag-and-drop style website builder, but it specializes in simple websites that don't offer SEO or advanced marketing functionality.
While WordPress is great for bloggers and business owners, it's steep learning curve means you can spend weeks trying to master the basics.
If you want to save time and money, we recommend using Pedestal – the website builder created specifically for trade businesses, cleaners and cleaning companies.
"What makes Pedestal perfect for building cleaning company websites?"
For one, Pedestal makes the entire process amazingly easy.
Pedestal comes prebuilt with layouts, pages, graphics, themes, and pretty much everything you need to get started. Oh, and because it's built by a team that understands marketing, it's designed for top-notch marketing results.
Pedestal knows how to create a website for a cleaning business…to the point that they did all the hard work for you.
With Pedestal, all you need to do is bring your personal touch, content, and contact details. Here's a snapshot of the time Pedestal will save you:
No coding to sort out or technical jargon to understand
Designed with templates especially for cleaning services and businesses
No guessing what to include: just point, click, and you're done
Save on agency fees with built-in marketing strategy and SEO
Offer consistent, quick user experiences with fast load times
Everything works perfectly on laptops, tablets, and smartphones
How to create your cleaning company website in under 60 minutes
Domain name and hosting? Check!
Logo and company details? Check!
One hour of time to hunker down? Check!
Sounds like you're ready to get started. First, we have to get you a Pedestal account…
Step #1: Create your account
This step takes no time at all.
Go to Pedestal website and click the green 'Get Started' button. All you have to do is enter your email.
NOTE: You can try Pedestal with zero commitment and zero payment until you're sure you want to go live.
Step #2: Choose a cleaning website template
Remember how we said Pedestal comes prebuilt with templates just for cleaning websites?
This is where you get to pick a premade template and save hours of time designing and tweaking.
Click on 'Appearance' in the left-hand menu. Here you can pick from a few basic layouts (which you can customize later).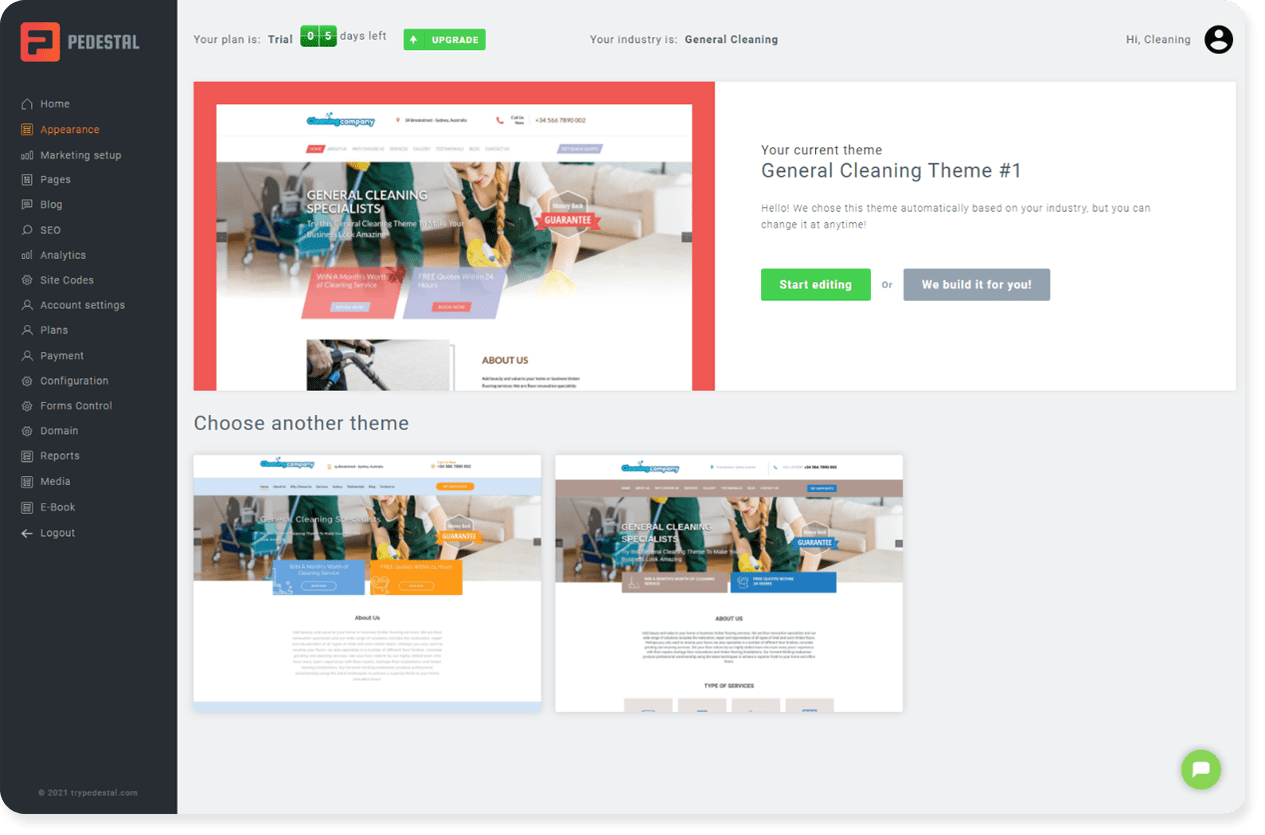 Wow, this is already looking like a website!
Now you can change out or add in images of your own. There are a few key places to do this. Let's start at the top and work our way down the page.
Company logo
Click on the placeholder logo in the top left of the page. You can upload your very own logo by clicking on the Upload option that appears and selecting your file.
Slider images
See the big pictures in the first main section of the page?
That's the image slider.
You can use the stock photos included with the template or change them out with images of your own. Just click on the image to open the editor. You can add, remove, or rearrange the photos as you'd like.
Extra images
Keep scrolling down the page to swap out any of the images you see for one of your own. Change as many, or as few, as you want.
Step #4: Customize colors
Every template comes in a starter color theme and offers a few more for you to pick from.
You can see these colors listed under the 'Appearance' menu on the right side of your screen. Choose a theme color and layout color. Or get creative and choose some custom colors along the way. As a website builder "with a brain", Pedestal will apply these changes throughout your entire website.
Step #5: Set up your marketing strategy
Pedestal's marketing strategy walks you through entering the core details about your business. This gives you a HUGE advantage over other cleaning business websites as you can:
Enter content ONCE and Pedestal adds it to relevant spaces throughout your site.
Use all of the info you populated to help you stand out to customers and for SEO.
Start the setup wizard by clicking on 'Marketing' in the right side menu.
From here you can add individual features to boost your marketing strategy, scroll down for an overview of each feature (and why they help you get more leads and sales).
'Why Choose Us?'
Seriously, why SHOULD someone choose your cleaning business over a competitor?
What makes you actually stand out. This is the place to explain it. Keep it short and sweet. Everything you see is configurable.
Change the reason label, description, and icon however you prefer to share your story.
Clients/Affiliations
If you work with local companies that potential customers might recognize, this is the place to name drop. For commercial cleaning businesses, this can be other corporations or buildings that rely on your services.
Click inside a logo box to upload and add images. Click the trash can to remove a section (in case you don't have all 6 ready to fill in now).
You can also choose to exclude this section entirely.
This might work best if you focus on residential cleaning. But you can highlight those customers later in the process. Just choose the option for 'I don't want to show my customers'.
Suppliers
In the world of cleaning, the products you use can be a hot topic. In the 'Suppliers' section, you can show off the brands or equipment you use, right down to cleaning products. These can create credibility and assurance with potential customers.
Testimonials
Sharing what past customers have had to say about their experience is a great way to build trust with new ones.
If you need a few quotes, don't be afraid to ask a few clients to share what they liked most or benefited from using your cleaning service. You can click in the name and content fields to add in the copy with ease.
Social buttons
A potential customer made it all the way to your website. But they may want to take their research to social media to check you out further.
Make it easy by adding your social links to the logos provided. This also gives people a fun way to interact with your brand, and helps you grow your follower count (win-win).
Contacts
Last but not least, make sure your contact data is accurate.
If you have different email addresses for quote requests and general information, include them. This information must be accurate and match any other places where you list your contact information online.
Step #6: Edit your homepage
All of the content you entered in the ;Marketing Strategy' step has now been added across your website.
A quick run through of each page will get you to the final stretch. Start with the home page and work top to bottom.
Check each section and click in the text areas to swap out the filler copy for your own.
In the 'Services' section on the page, you can click to change out the service names and add your descriptions. If you don't need all of the available spots, just click the 'X' in the top right corner to remove a content block. You can also click an image to change it out.
Step #7: Edit your 'Why Choose Us' page
When you're ready, click 'Why Choose Us' in the top navigation to switch pages.
Here you can detail out more of what makes you different from other cleaning businesses in your area. You can also see that the info you entered during the 'Marketing Strategy' stage appears here, too.
Step #8: Edit your 'About Us' page
Switch to the 'About Us' page to change out explanations about your company and some of the things that make your business unique.
You can format the text in any of the copy editors with easy options to add bold, links, or change highlighting.
Much of the information on this page will be pre populated for you. But don't miss the 'Meet Our Team' section. You can highlight your team members and include fun facts about them to make them more relatable to customers. Click the gray 'X' in the top right corner to remove any content you don't need as part of the template.
Step #9: Edit your 'Services' page
Services are what make your company shine, and they're really the nitty gritty of what customers are looking for when they visit your site.
Answer their question "does this company do…" with a firm and clear explanation.
The main 'Services' page will list an overview of each service and a blurb describing it. If you've already updated these elsewhere, you'll see them again here.
Click the 'MORE' button for any of these, or mouse over the 'SERVICES' option on the main navigation to get a dropdown list of sub-pages. These are where you'll add your content about each specific service, how you perform it, the products you use, and extra particulars to sell yourself to potential clients.
Step #10: Edit your 'Testimonials' page
This page should be set for you if you went through the 'Marketing Strategy' wizard in detail. You'll see each testimonial listed out, but you can always click one to make a change.
Step #11: Edit your 'blog' section
Got any blog posts at the ready?
This is the time to load in your content. In the 'Blog' section of your site, you can click to 'Add New Post' and start populating your cleaning website with helpful content that turns you into an expert.
Hitting 'New Post Creation' lets you use a simple text editor to drop in your blog content. You can also upload a photo to go along with the story and even choose when to publish.
You can also choose to skip blogging entirely.
While you might lose out on some SEO perks (as blogs can help you rank for a variety of cleaning keywords), you can hide the section until the time is right.
Click on 'Pages' on your Dashboard, then click the eye icon to hide the Blog section.
Step #12 – Edit your 'Contact Us' page
Everything should populate here from your input on the 'Marketing Strategy' step. Just give it a double check to make sure your phone and details are 100% correct before you go live (because you'll have phone calls and emails coming in hot).
Step #13 – Edit your 'FREE eBook' Call-To-Action
Another unique way to engage with your web audience is to offer something for free.
Who doesn't like free stuff?!
Website visitors might be curious about your cleaning company but not quite ready to make a call or hire you for a service. Offering an eBook can show your professionalism and expertise. In exchange, all they have to do is provide their information and *presto* they get free content. In return, you get their contact information that can be used to reach out when the time is right.
You can create your eBook from the 'eBook section' on the Dashboard. The template comes ready to receive your copy. You can choose different layouts and color options.
eBook access is built into the website template, and you can find it on the homepage.
You can adjust this text to match the topic of your eBook.
Use the drop down to link back to the eBook and change the text as needed. You can even click to change the cover art.
The end is in sight.
Go ahead, give every page another once over. Dot the i's and cross those t's.
When you're ready to go live, head over to the Dashboard and click on 'Payment'.
You can create a full website using a Pedestal free trial, but you can't publish your website until you have a plan in place.
Choose a plan, load in your payment details, and proceed when ready.
NOTE: Remember to add your domain details. Click 'Domain' on the Dashboard menu. Add your domain information and let Pedestal start the transfer and set up for your brand new website's address.
Can I hire someone to build a website for my cleaning business?
Pedestal makes getting a professional cleaning services website up and running in pretty much no time.
But if you have your hands full with customer appointments, staff management, and other admin work, you might prefer to outsource the job.
Instead of missing out on the marketing benefits a cleaning site can offer, consider two alternatives.
Find a freelancer who builds cleaning sites
You can bring in help without paying for more staff.
Use a freelancer website like Upwork or Fiverr to find talent that can assess your needs, create a site, and then head off into the sunset.
You can pay per project or per hour, depending on the arrangement and needs, and come away with a fantastic website with minimal effort on your part.
Hire a professional web design agency
Agencies offer the benefit of having an entire team on call to help with marketing across the board. Contracting a digital agency can take the stress out of creating logos, writing copy, and (of course) designing a cleaning website.
Ready to clean house with an amazing cleaning company site?
An informative, freshly designed website can make all the difference to new customers considering your cleaning services.
Consumers want to work with companies that present themselves professionally everywhere – in person and on the internet.
While a website can take months to create from scratch, they don't have to.
You can use a website builder that simplifies layout and design, and with Pedestal you can launch a website in under 60 minutes, with built-in marketing and SEO working for you.
Still don't have a website? What are you waiting for? Sign up for Pedestal today and try for FREE for 14 days.