How Can I Tell If My Website Architecture Is Bad And Is Costing Me Leads?
If a contractor marketing agency tells you your 'architecture' has problems it's tough to know whether they're telling you the truth. It almost feels like a dodgy salesman trying to sell you a left-handed screwdriver that won't actually make a difference to your business. Is there actually anything wrong with your contractor, trade or home improvement website? That's the question you need answered.
Website architecture is a fancy term for how your site is organized. If it's well organized and easy for people to find things and use, they're more likely to become customers. If it's poorly organized, you'll lose leads. Here are 5 warning signs your site architecture is in trouble.
Have you ever stepped onto a worksite and EVERYTHING was chaos?
Tools on the ground, piles of timber fallen over, no one seems to know who's in charge or what to do. That's exactly what a site without website architecture is like.
Website architecture sounds fancy, but it's just how a site's pages and content are linked together and how organized they are. Good website architecture makes it easy for people to move from one page to the next. And makes it easy for Google to see what your site is all about.
Bad website architecture is the opposite. It confuses people, makes it hard for them to find what they're looking for, and doesn't give Google confidence you can solve people's problems (which means your SEO results go south).
You're here right now because you've heard the phrase "website architecture" and part of you is worried your site might have been built without a clear plan in mind.
In this article we'll explain why website architecture matters and cover 5 examples of bad website architecture – so if you see your own site reflected in this list it might be time to speak to a professional web design agency.
Grow Your Tradie Business. The Easy Way.
We work with trade business owners exclusively. Bathroom Renovators, turf layers, concrete contractors, tilers… if you're on the tools or organizing a team, we've got you covered. We've helped tradies generate over $200 million in leads.
We don't work with lock-in contracts and guarantee to increase your leads (Or will give you $300!).
What is website architecture?
Website architecture is the way your site organizes and delivers content.
This covers both the way your pages are connected AND the technical considerations that make your site easy to use.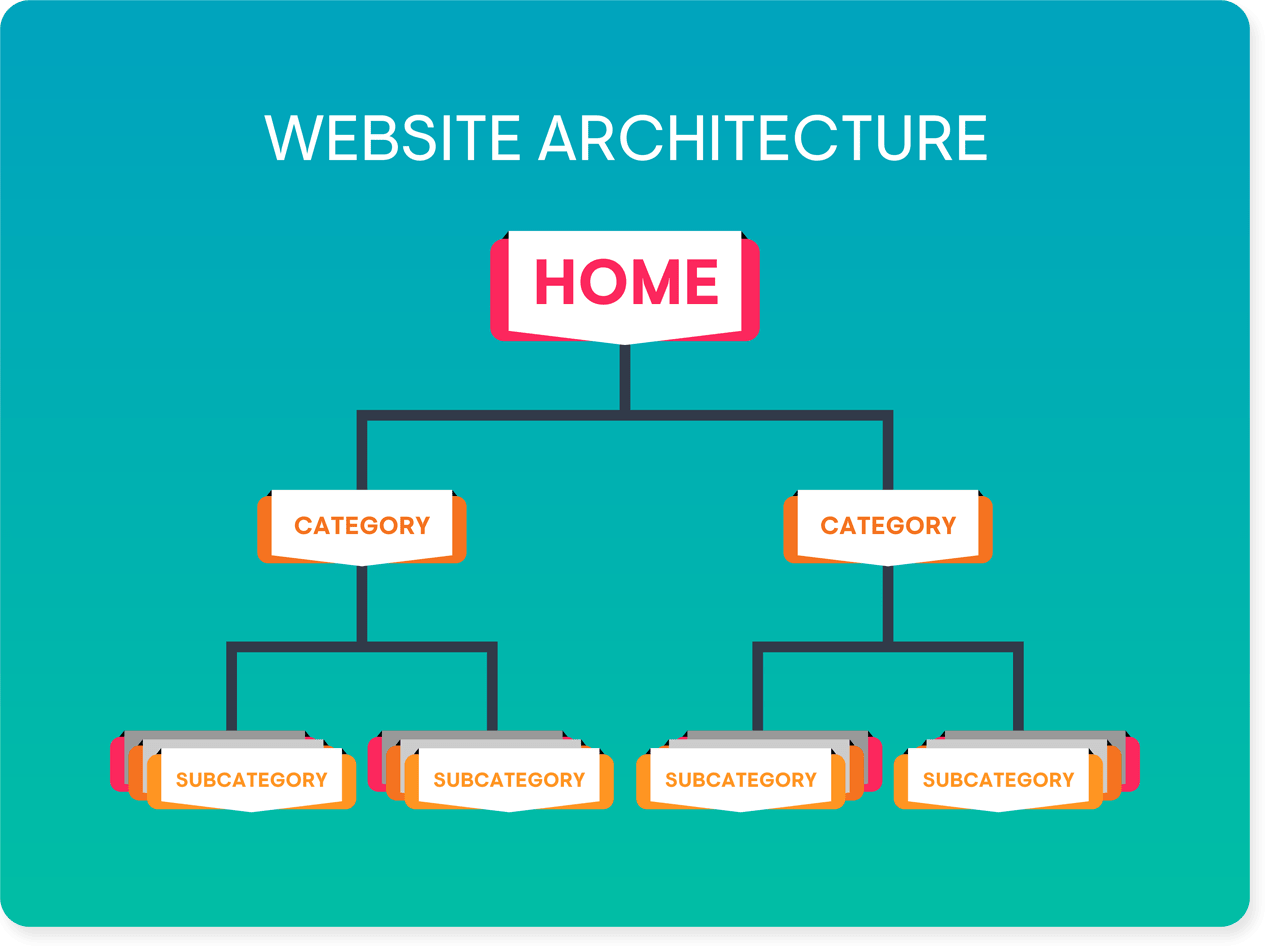 Some of the key features of good website architecture include:
Website speed

: If your website loads slowly you're

a).

frustrating customers who look elsewhere and

b)

. frustrating Google by driving customers away, which hurts your SEO.

Easy for Google to read

: There are plenty of technical terms to keep you busy – robot.txt file, titles tags, meta tags, etc. All they really mean is that you need to make your site EASY for Google to read.

Logical URL structure

: Good website architecture organizes topics together, for example a page on synthetic grass leading to an article about the price of artificial grass installation.
It's easy to get caught up in the technical side of site architecture. All that matters though, is keeping things simple.
Can Google easily find and crawl your contractor, trade or home improvement site? Can customers easily find and browse your site?
If you answered 'yes' to both of these questions, your site architecture is solid.
Worried your website is slow? Use Google's free PageSpeed Insights tool to find out
Website architecture considerations for contractors
You know how to find your local hardware store. But if you went to look for new power tools and the power tool section was empty, you'd be frustrated.
Then imagine going to ask an employee if the power tools have been moved or if they're sold out, only to realise there are NO employees around to help you. So you leave.
That's what happens to a website with bad architecture.
You might be able to send 100 people a day to your site, but if they can't find the information or services they're looking for, it's likely you'll see all 100 people leave frustrated and ready to take their business elsewhere.
Why does website architecture matter for contractor SEO?
Your website needs to have good site architecture for three reasons:
To help Google find and index every page you have

= if you're not indexed you'll never appear on Google

To pass link authority around your site

= linking from one page to another can boost your SEO

To help people find the pages they're looking for

= helping people find the right pages is how you get leads
Don't worry if these factors sound overly technical. All you have to do to understand website architecture is put yourself in your customer's shoes.
Let's say you're on a website trying to buy new work boots. You click on a link for the brand you like but it takes you to the wrong page. After clicking through 5 different pages looking for boots in your size, you end up on an 'error' page. With no other options or clickable buttons you have to go all the way back to the home page and start the process all over again.
That website architecture sucks.
And that's how you lose frustrated customers and hurt your rankings.
Interested in a new website? Learn how we build SEO sites step-by-step with ZERO website architecture problems
OUR GUARANTEE
$300 Lead Increase Guarantee
"What website architecture best practices should I follow?"
Most problems in life can be made easier by adopting the attitude of 'keep it simple'.
It doesn't matter if you're changing a busted o-ring or building a website, making things more complicated than they need to be is likely to cause more harm than good.
The following 5 website architecture best practices come down to keeping things simple, and putting your customers first.
If you recognise your own site in this list, you could be losing frustrated site visitors every single day until you make a change.
#1 – You don't have keywords in your URL
It's easy to assume a website URL is just a way of finding a business online. But that's not true. Good website architecture optimizes each URL to help your site visitors understand what each page is about.
Adding a keyword in your URL is an SEO tactic that can boost your odds of ranking for that keyword, but more importantly it makes things easy for your customers. If they're searching for wooden cabinet repair and they see the URL www.yourbusiness.com/wooden-cabinet-repair/, it's obvious they're on the right track.
If your URLs don't include keywords that make it easy for your site visitors to understand what each page is about, you've got problems with your website architecture.
#2 – It takes more than 4 clicks to reach a page
Your site visitors aren't patient. Even if they're just looking for a local plumber to fix a leaking tap and couldn't care less about your reviews or mission statement, they want the plumbing website they choose to make it easy to find the leaking tap page so they can request a quote.
Good website architecture makes it easy for people to find what they're looking for. If people need to click through 8, 9 or 10 different pages to reach the content they're looking for, you're going to lose a ton of site visitors who are fed up with searching.
4 clicks isn't a hard and fast rule, but the easier it is to reach any page on your site in as few clicks as possible, the better.
#3 – There are no locations in your URLs
You want to get more customers from your local area, because it means less time driving out to meet clients, less fuel costs, and more free time for you. This is great because plenty of your customers live in your local suburb and want to find the closest home improvement help too.
They don't want someone from 23 suburbs over to help them because a) there might be a monster call-out fee and b) that person doesn't know the local area.
Despite the fact you and your customers want the same thing, plenty of tradies drop the ball by leaving locations out of their URLs.
Adding locations to your URLS – like www.yourbusiness.com/perth-domestic-electrician/ tells Google what suburb you're targeting, but more importantly it tells your potential customers. They can see you're from Perth in this example, so they're more likely to choose you over contractors, trade and home improvement businesses who haven't listed their service areas.
#4 – There are random characters in your URLs
Which of these two URLs would you be more likely to click on…
www.yourbusiness.com/cheap-pest-control/
Or…
www.yourbusiness.com/495hxi_j9f76/
Plenty of websites end up with URLs full of more random numbers than a barcode on a case of your favourite beer. As long as your website is working and the page is up, it's easy to let these random characters slide – especially when you've got a business to run.
But this comes back to putting your customers first. People are easily put off by random letters and numbers, and these strange URLs make it hard for people to see what your page is about. So, if you've got URLs that look like strings of jumbled characters, your website architecture needs work.
Breadcrumbs can sound like another SEO term that's needlessly vague, but adding this simple feature to your site can boost your website architecture.
If you've ever been a few pages into a website and wanted to go back to an earlier page, you'll either have to smash the back button until you find it, or head to one of the menus and start your search all over again. Breadcrumbs are a small text path, usually at the top of a page, that show each page you've been on to get to where you are – like a trail of breadcrumbs you can follow back.
For example, Home > SEO > Website Architecture
You could use those breadcrumbs to avoid getting lost – which is exactly why you need them on your site. It's true breadcrumbs help Google understand your site, but great SEO puts your customer's needs first, and breadcrumbs mean people can move forward and backwards easily without getting lost.
How to create website architecture on a budget
Poor website architecture typically comes from two problem areas:
Your website is new and was made by someone without a marketing background
Your website is old and it's grown to a HUGE collection of random pages
Both of these have the potential to send potential customers running for the door (or the 'back' button).
If you've already got strong word of mouth this might not phase you, but remember where those people are going. They were on your site because they're interested in home improvement help around the house – if they don't choose you, they'll end up with one of your local competitors.
If you're realising your site has more structural problems than you thought, it's not the end of the world, and you don't need to pay an agency $10,000 to build you a brand new website.
At Tradie Digital we build custom SEO-friendly contractor, trade and home improvement websites from scratch, making sure all website architecture is in place to make life easy for site visitors.
If you need help cleaning up your site, claim a FREE consultation to speak to a member of our team to find out how we can help.
Grow Your Tradie Business. The Easy Way.
We work with trade business owners exclusively. Bathroom Renovators, turf layers, concrete contractors, tilers… if you're on the tools or organizing a team, we've got you covered. We've helped tradies generate over $200 million in leads.
We don't work with lock-in contracts and guarantee to increase your leads (Or will give you $300!).