ADVERTISING
4 MINUTE READ
10
Home Improvement Advertising Ideas

(Bonus: 10 Facebook Ad Examples For You to Steal)
Hone in on an untapped source of business with targeted Facebook advertising that resonates with your customers – and makes them spend their hard-earned money with you!
From new wall colors to updating decking, home improvement projects come in all shapes, sizes, and urgencies.
That's the problem though – every home owner and business owner will have their own unique vision. Which might make you feel that advertising your home improvement services is a bit of a waste. After all, won't people come calling when they're ready?
Sure, but can they find YOUR phone number when it's time to make that call?
Your market is teeming with home improvement pros spanning general contractors to specialized tradies. Depending on your focus and your local area, there's a good chance you'll have some stiff competition for new business.
And don't forget: you're also competing against the DIY craze. The recent pandemic only catapulted the demand for projects with 76% of homeowners spending more time upgrading their spaces.
But you can beat out the competition for bigger projects and show ambitious homeowners why they should turn to a pro instead with the right advertising.
To get you started, we've put together ideas for 10 of the best home improvement Facebook ads – and we want you to steal them for yourself.
FREE REPORT
Home Improvement Businesses: Don't Invest A Dollar In Digital Marketing Until You Read This!
Why you need to run home improvement ads on Facebook
Not convinced yet?
How about the fact that 56% of people with home improvement projects in mind will look to hire a professional in 2021? This can range from indoor improvements to kitchens and bathrooms to outdoor space upgrades.
When they start their search for the right local home improvement company, you need to come up as one of their results. Running local ads can get you front and center for people searching for specific products and services in your area.
They might not know your company name, but they could end up finding you from a "bathroom renovation near me" search in Google.
If you haven't run ads before, you're probably wondering why you should sink money into it now. Well, other than grabbing a bigger piece of your market the relationships you make today can carry your business forward.
Competitors who snag a bathroom reno job today might get a call in a few years for a bedroom add-on or a recommendation to a family member who also has a shower that needs work. The home improvement industry still relies on word of mouth, and the right ads can have people talking about your business for years to come.
What is the best form of advertising for a home improvement business?
Ooooh, tough question – but we'll answer it for you.
Digital advertising has become the mainstay for most marketers, and small to midsize businesses can benefit as a result.
The reason? Hyperlocal targeting puts your money toward ads that are seen by the exact people you want noticing you.
Local ads, based on geographic area, can also be further refined for other criteria depending on the platform. For example, if you run a local ad on Facebook, you can narrow down the reach based on user age (i.e. rule out anyone under 18 who is less likely to own their own home).
Check out this article if you're still considering whether Social Media Marketing is for you.
Do home improvement ads work?
Yep, and thousands of home improvement businesses around the world are the beneficiary.
Keep in mind, it may take some refinement to zero in on exactly what works best for a particular business. But engaging, clear ads can bring in a blend of two core things.
Brand awareness with more people than ever seeing your company name
Lead generation with people who have upcoming projects and money to spend
And since advertising and sales are all about numbers, here are a few more based on current trends specific to home improvement:
$16

= The average cost per click for an ad

$186

= The average cost to get a new lead

30%

= The average of how many leads become customers
If you do some quick math on how much you spend vs. how much you can earn from a new job, you can see how home improvement ads can pay for themselves, and then some.
As a simple example, if your leads cost $186 and your average customer lifetime value is $10,000, you'll be able to figure out how much you can spend on ads to stay profitable.
FREE REPORT
Home Improvement Businesses: Don't Invest A Dollar In Digital Marketing Until You Read This!
Home improvement Facebook ad ideas you can steal
Great news! Some of the best home improvement ads don't have to be complicated, fancy, or time consuming.
The keys are to be clear and concise about what you offer, what makes you different, why you're the best (you know you are!), and how they can reach out to you – today!
Read on for 10 of the most effective home improvement ads we've seen and tips to use their tactics in your next ad campaign.
NOTE: The examples we've collected are all Facebook Ads, so they mix text and images. These examples won't work if you're running ads on Google, but for Facebook and Instagram these will help you generate more leads and land new clients.
#1: Show 'Before' and 'After' photos
Don't just tell people you inject new life into old spaces, show people!
Take some drastic before and after photos and put them side by side in an ad that invites people to update their own spaces.
WHY WE LOVE THIS AD STRATEGY: Creating a visual, linear flow from 'before' to 'after' means people don't just have to imagine the results – they can see them! Simple and effective.
#2: Personalize your message
It's no secret that you work in a specific area or for certain project types. So personalize your content to make it more relatable for readers.
WHY WE LOVE THIS AD STRATEGY: Your customers want to feel like you understand them, and the more personalized your ad, the more connected to you they'll feel. This could be as simple as talking about a location or a type of homeowner, or be super niche and reference a particular type of crown moulding you work with.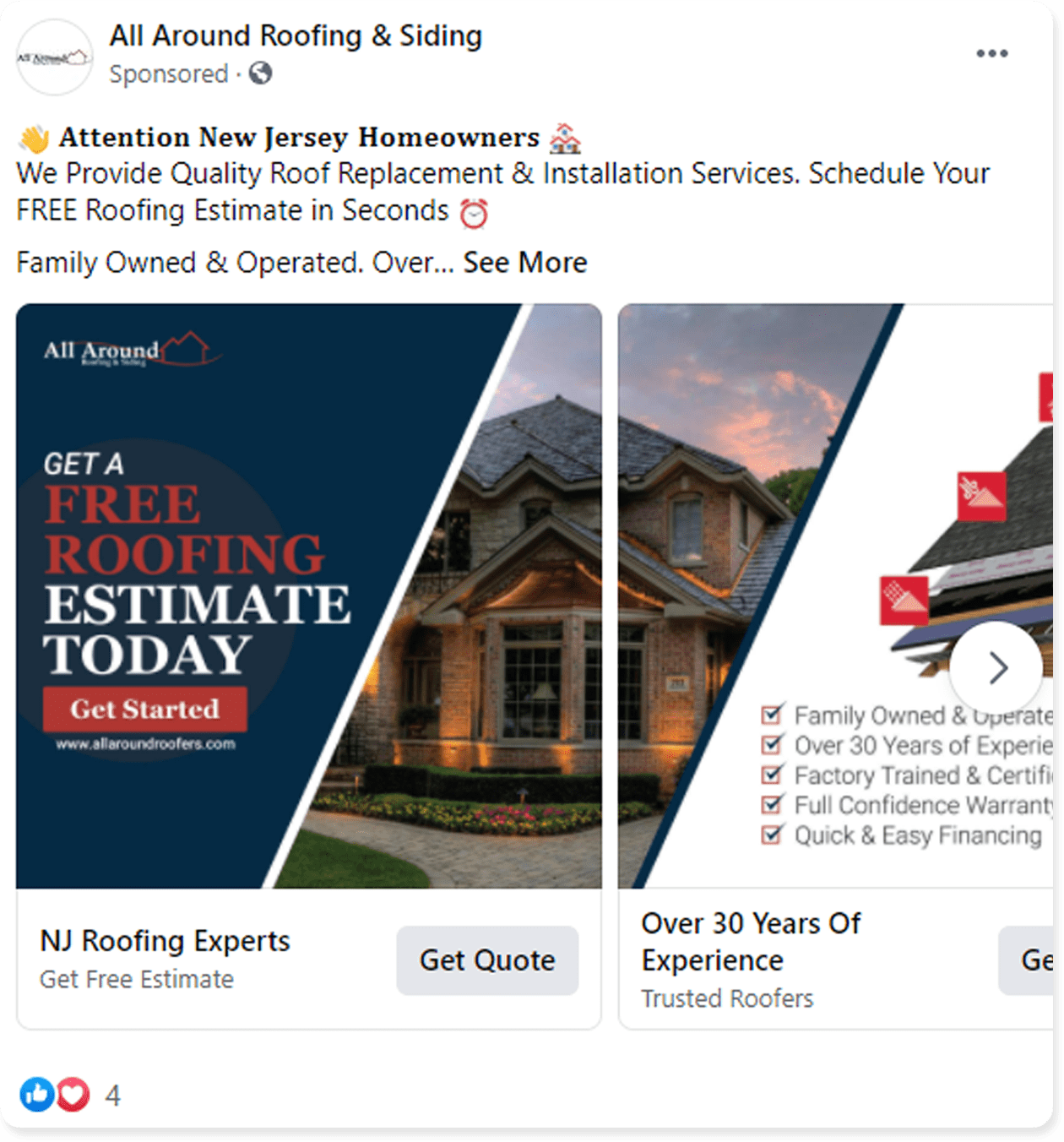 #3: Celebrate seasonality
How many people do you think are contemplating adding on a new deck in the middle of winter? Depending on whether your service area gets snow, people probably want to stay indoors. But you can cater your ads to the seasons and weather to tie into the needs of today, and plant the seeds for next season's projects.
WHY WE LOVE THIS AD STRATEGY: Great advertising is proactive, not reactive. By designing your message to appear BEFORE peak interest you'll be ahead of your competition. For example, ads that run towards the end of winter that offer the chance to create a 'stunning spring garden' can get people excited to hire home improvement services as the weather turns.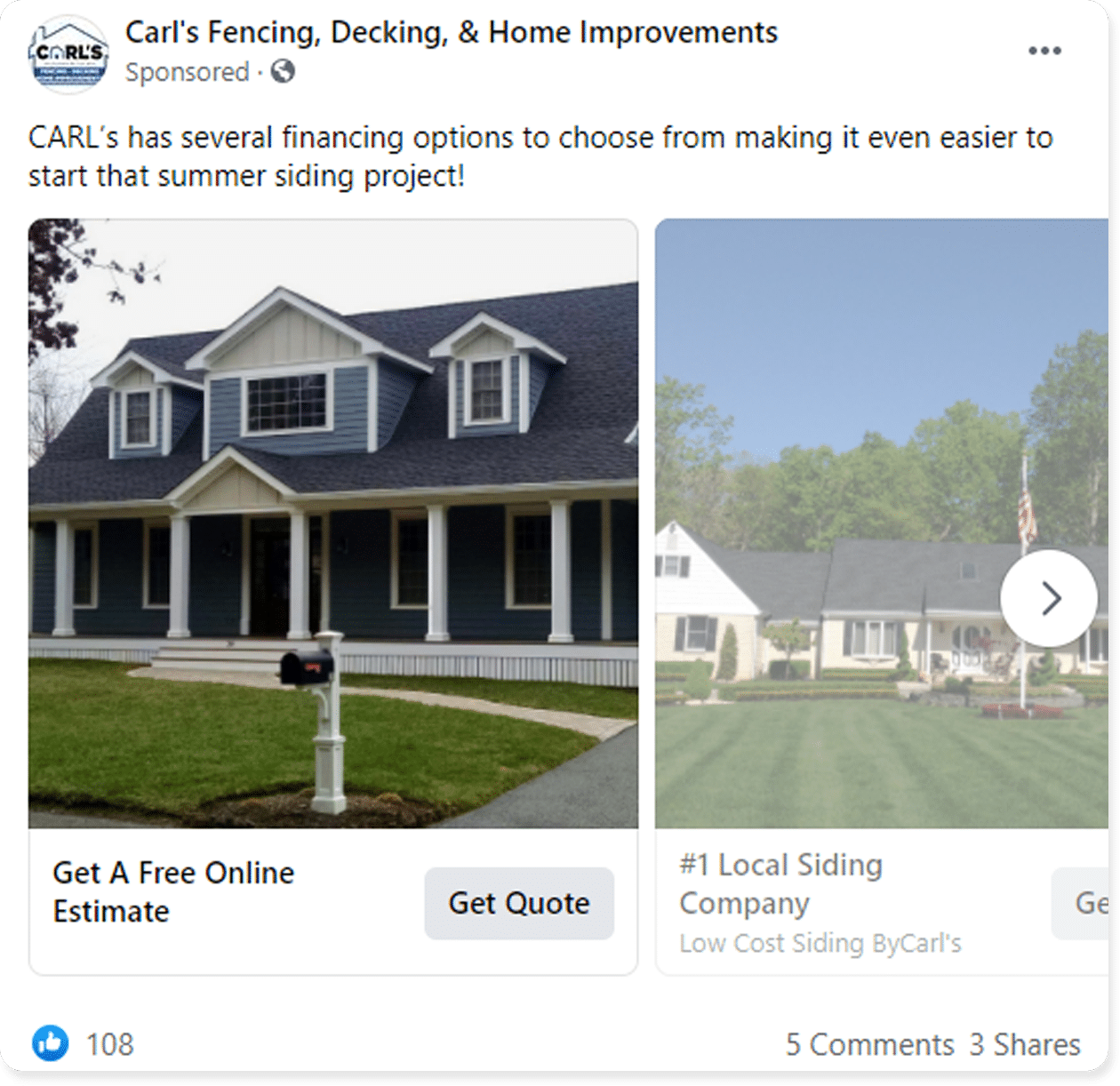 FREE REPORT
Home Improvement Businesses: Don't Invest A Dollar In Digital Marketing Until You Read This!
Home improvement projects can be downright daunting. Showing off your specialized know-how to educate customers adds credibility and engages them to learn more about you, too.
WHY WE LOVE THIS AD STRATEGY: Trust is the currency of the internet. You'll only get new customers when you develop trust. Ads that share your expertise in the form of guides and downloadables can help generate leads and build trust.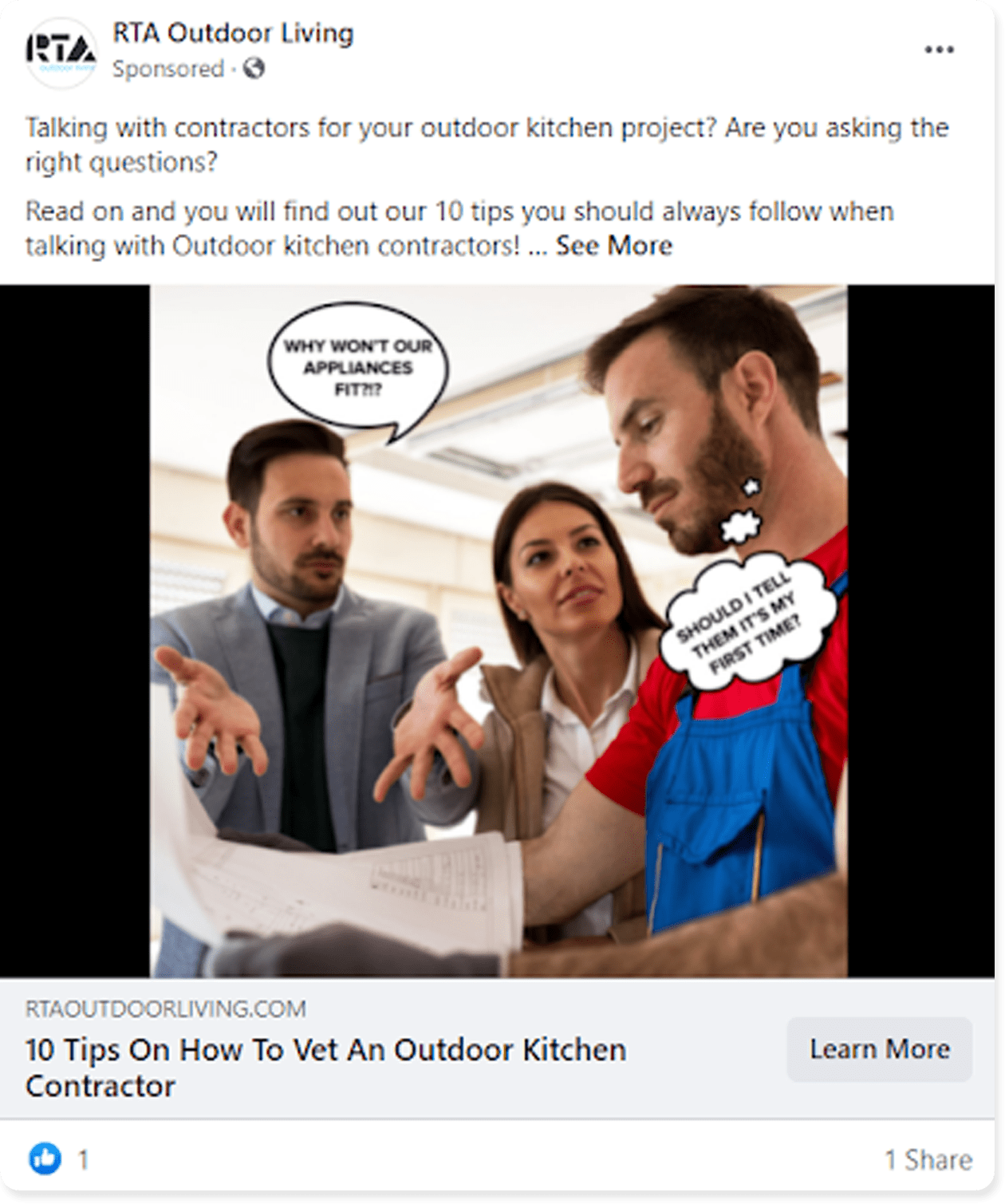 Renovations can be pricey for homeowners when you consider planning, permits, fixtures, and labor. Try demonstrating how the right home improvement can also be a real estate boon.
WHY WE LOVE THIS AD STRATEGY: Your customers want to know what's in it for them. Avoid focusing on features and instead, showcase the benefits of your service. This could be to increase the value of their home, to save them time, to save them money, etc.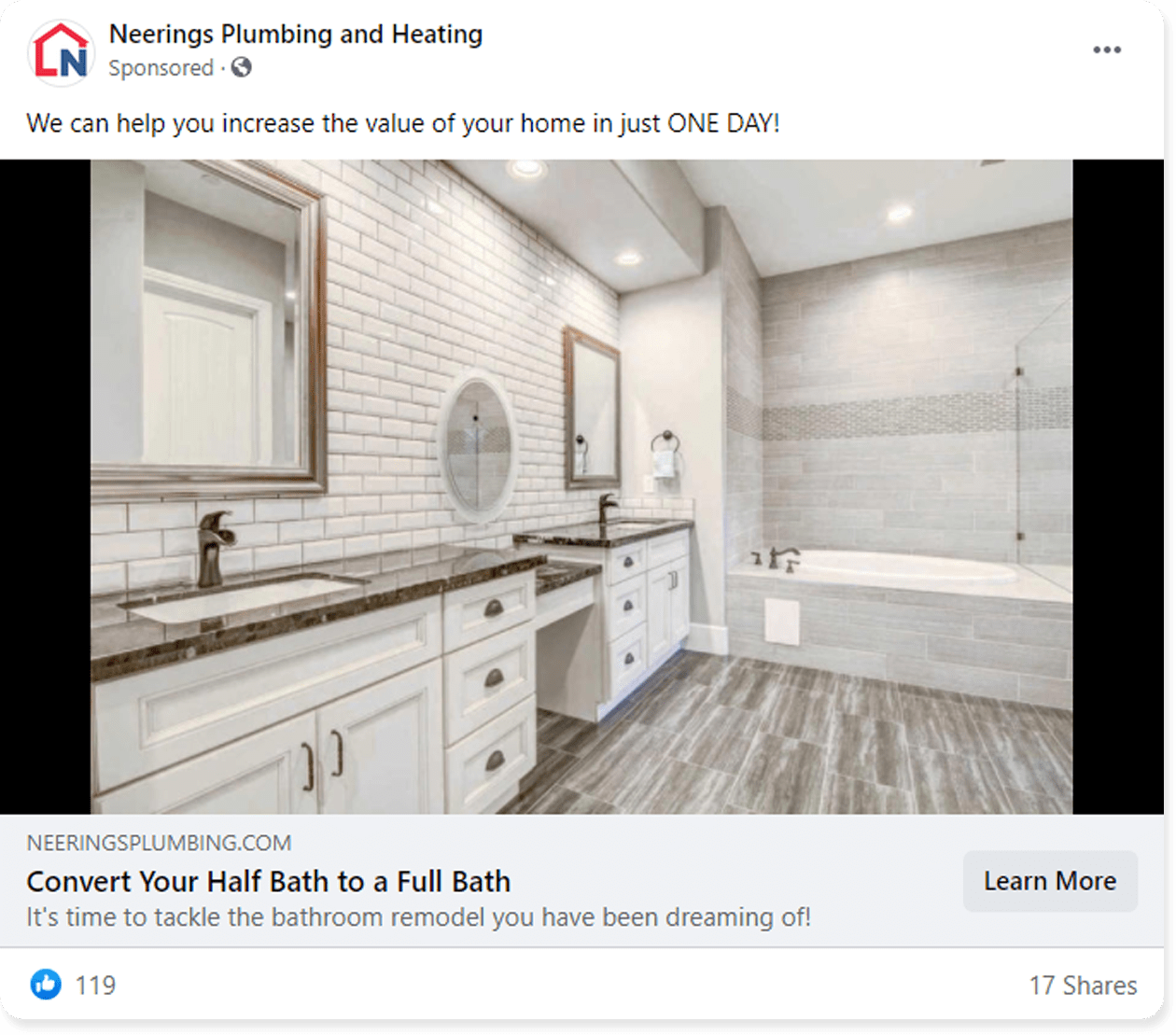 DIY gone wrong? Tired of being in the same space (or not having enough space)? We all have these problems, so why not mention them and present a solution!
WHY WE LOVE THIS AD STRATEGY: Addressing your customer's pain points is advertising 101. For example, are your customers looking to renovate so they can add value to their home? Or to make room for a child moving back home? If you know which pain point to address, an ad that speaks directly to that concern will outperform a generic ad 10 times out of 10.
#7: Make a time-sensitive offer
An offer is one thing. An offer with an expiration date is another that just might motivate someone to make a purchase decision.
WHY WE LOVE THIS AD STRATEGY: All customers are susceptible to FOMO (Fear Of Missing Out). A ticking clock can help push people into contacting you, simply because they don't want to miss out on a valuable opportunity.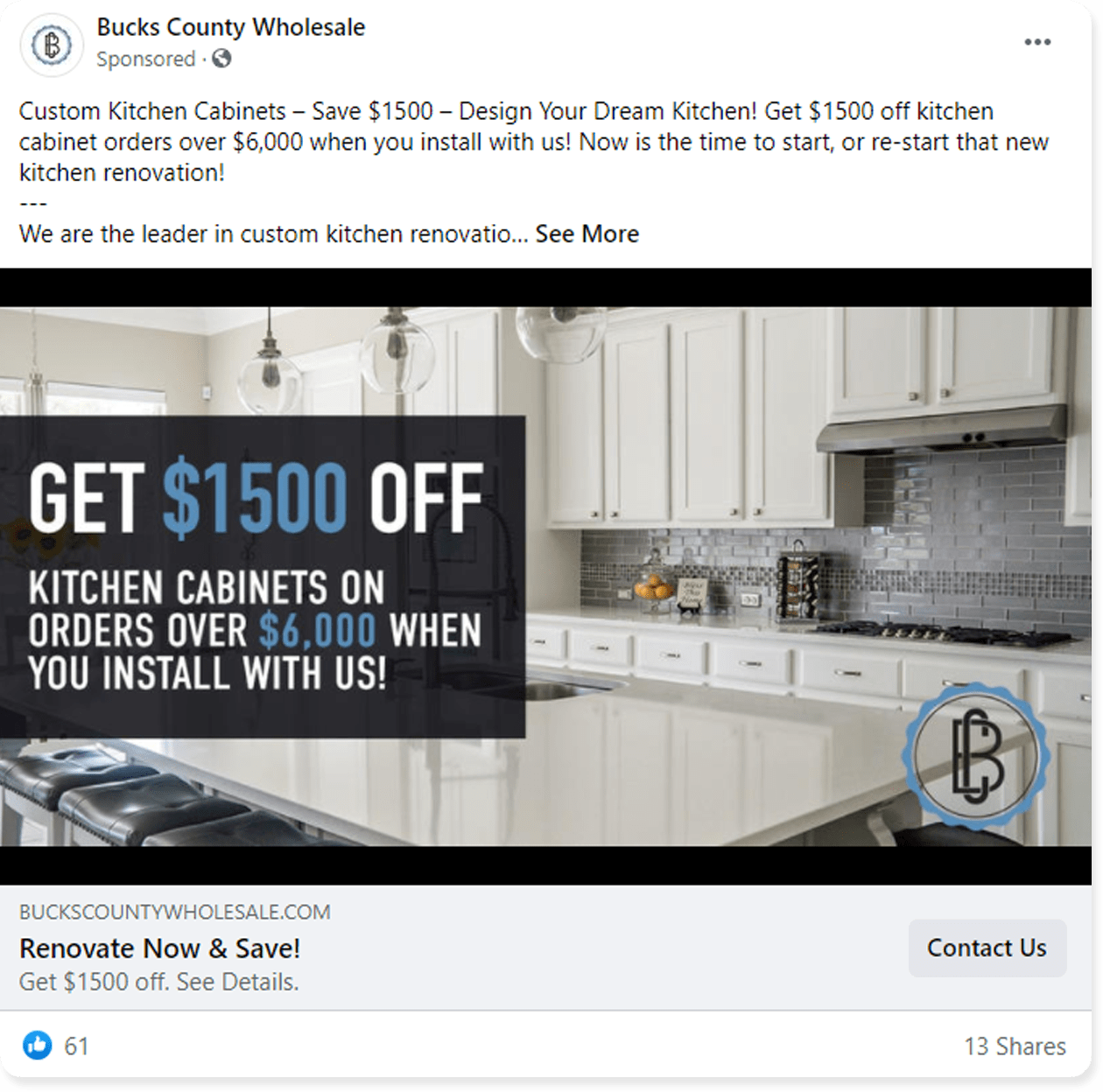 People love to win things, so how about a contest or raffle? Consider offering a service or free upgrade in exchange for signups or in exchange for people sharing their home improvement project goals.
WHY WE LOVE THIS AD STRATEGY: Who doesn't love free stuff?! It's a simple approach but, as practically everyone is up for a free prize, it's one that works. Great advertising doesn't need to be complex or revolutionary, the right ad tickles your audience right where it's necessary to drive action.
FREE REPORT
Home Improvement Businesses: Don't Invest A Dollar In Digital Marketing Until You Read This!
People like photos, but they really like videos. Tack a quick video onto your ad to show your services in action or introduce yourself to the community.
WHY WE LOVE THIS AD STRATEGY: 68% of people prefer to watch a video to learn about a product or service. Tailoring your ads to a medium people seek out is an example of understanding your audience and tweaking your ad campaign to match.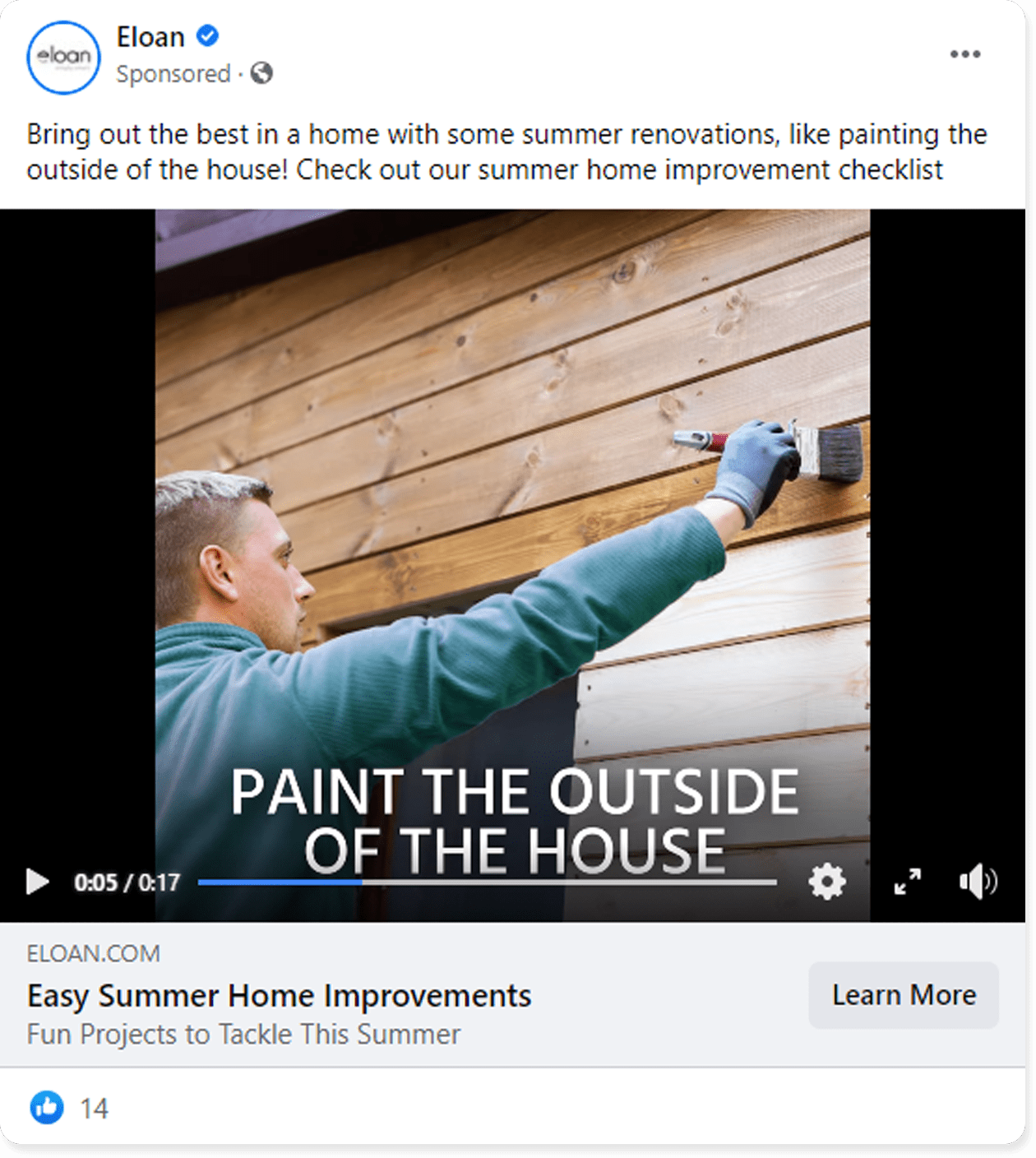 #10: Offer things for free
We're not talking about your services here, as giving away a free bathroom remodelling won't make your accountant happy. But many people will want to learn more about you (and, let's be honest) the costs of a project before taking a step forward. Offering free quotes, estimates, or consultations can put them at ease.
WHY WE LOVE THIS AD STRATEGY: This ad strategy is a 'foot in the door' approach. People are hesitant to spend their money, especially if it's a big ticket item. But free info, consultations, and estimates help you form relationships, and it's risk-free for customers which helps bring in leads.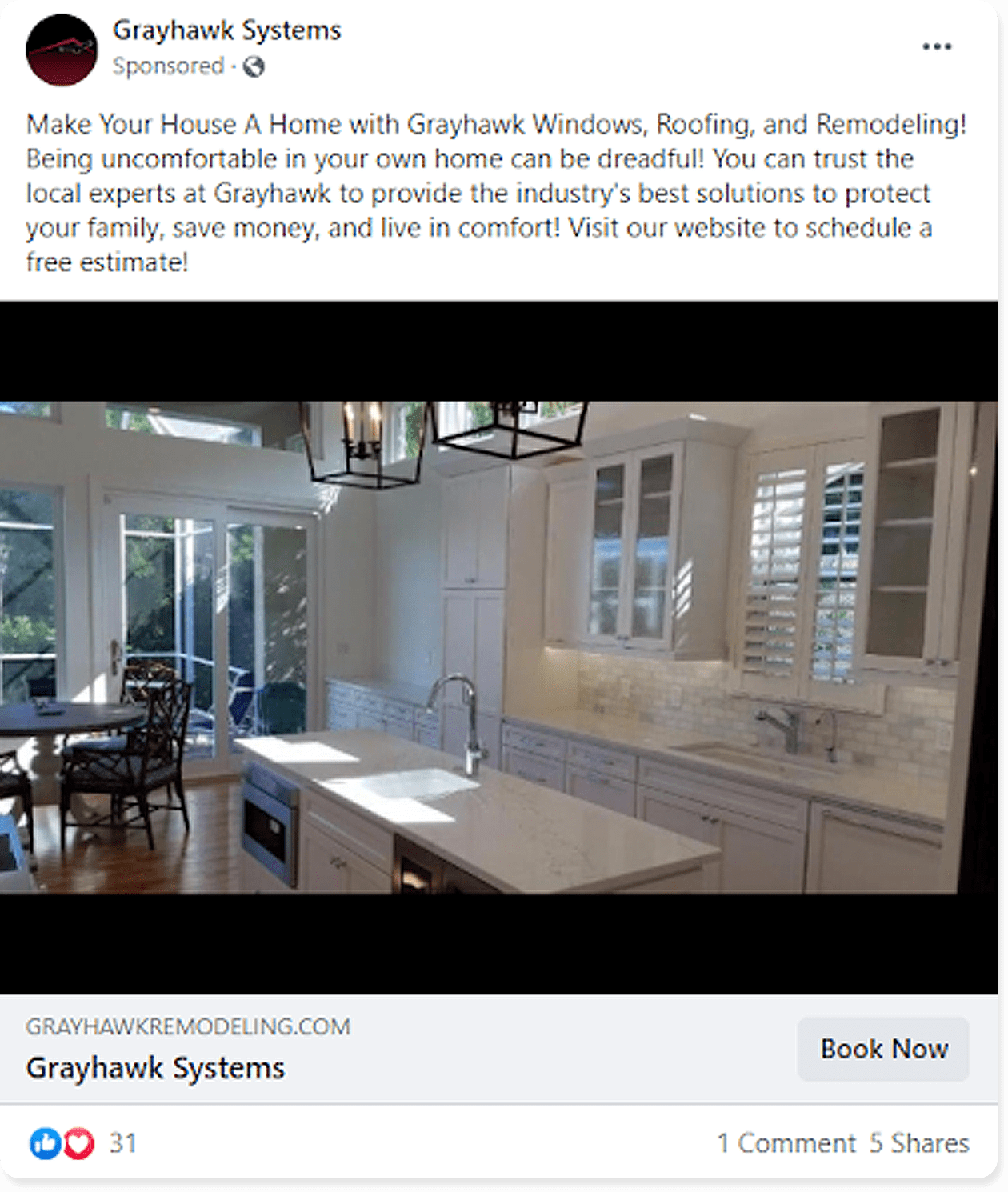 All great home improvement ads have these four things in common
There's a framework to successful ads, and it's not a secret. The ingredients to a great home improvement ad are:
They are short, to the point, and easy for readers to understand in 3 seconds or less.
They mix content and graphics (or video) to show while they tell.
They entice readers to become leads with a clear call to action.
They make the story just as much about the homeowner as they are about the business.
So, while we could keep on sharing examples of Facebook home improvement advertising ideas, we think the point is clear. You can spread your branding, show off your expertise, and engage with new customers with ads that target your territory.
Advertising can be effective, but it can also be time consuming to create, manage, and monitor.
After all, you want to boost high performing ads and pull the ones with messages that don't click as well with customers.
If you want to save time and make money, check out our Ad Management Services to find out if you're eligible to work with us.